Welcome to Fearless Assassins Gaming Community
We are glad you decided to stop by our website and servers. At Fearless Assassins (=F|A=) we strive to bring you the best gaming experience possible. With the help of many dedicated and loyal admins, various servers, custom made maps and friendly server regulars your gaming experience should be memorable! We, at the FA community, share a special bond that resembles that of a family. This maximises the fun experience we endure daily when we play together with games such as Wolfenstein: Enemy Territory, The Call of Duty Series, Insurgency, Day of Infamy, Counter Strike Series, Team Fortress 2, Minecraft & The Battlefield Series. Join the FAmily and play with us! You will be guaranteed to make many great friends from all over the globe!
Anyone from any race and country, speaking any language can join our VoIP (Discord) and gaming servers. We have clan members from all over the world so there is always someone around to talk to or play with. We do not care about the fluency of your English or the level of skill you may posses in-game. We only believe in making new friends in order to build and strengthen our community for years to come. If having a good time is your main objective, then you have certainly come to the right place and our welcome to join us any time!
<!— CSS Styles for the Date —>
<!— Large Date —>
Hello All,
We have re-worked on NQ1 stats and made it much faster compare to before. Their is still a lot to be done but we have reached to the point where we can use it - 
We will be starting new stats for silent mod soon as well and same for jaymod servers. It's going to have different look and feel compare to NQ ones. Will also add stats for NQ2 soon. As Paul from Trackbase have decided not to fix security issues in Windows ET 3.00 versions, which are really worse, we will be replacing stats to our own system slowly. 
Please report any issues, here and we will gladly look into it, ASAP. We will be removing old data every 2 weeks. So every midnight - we will update the stats. For silent mod it might be instant! Stay tuned! 
Thank you
<!— Large Date —>
Please join me in congratulating Sonofdoc for his promotion to Staff. Joining us as an ET member in 2015, Sonofdoc gravitated towards our then limping toward death cod4 server. His vigilance and perseverance have greatly contributed towards our growth into one of the top servers in the game. As we grow we recognize the need to have good admins and leaders. Sonofdoc will no doubt be a good example for everyone.
<!— Large Date —>
Dear fellow clan members, friends and regulars, on behalf of the Fearless Assassins Event Team, I present to you....
=F|A= Valentines Gameday!
Relationships and romantic dates are overrated and quite costly, come play with us instead!
ENEMY TERRITORY
Time: 11AM to Midnight GMT+0
Date:  Saturday, February 16th
Server Name: F|A #2 XPSAVE FOREVER (Jay#2)
Server IP: jay2.clan-fa.com:27960
Discord server : https://link.fearless-assassins.com/discord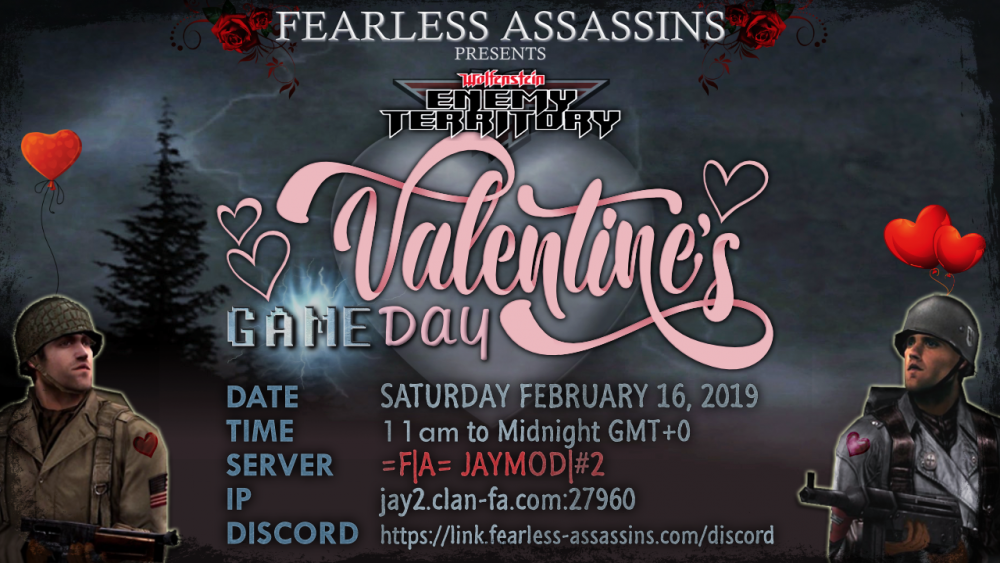 Call of Duty Modern Warfare 4
Time: 11AM to Midnight GMT+0
Date:  Saturday, February 16th
Server Name: =F|A= Beginners 24/7 (1.8)
Server IP: 108.61.21.94:28930
Discord server : https://link.fearless-assassins.com/discord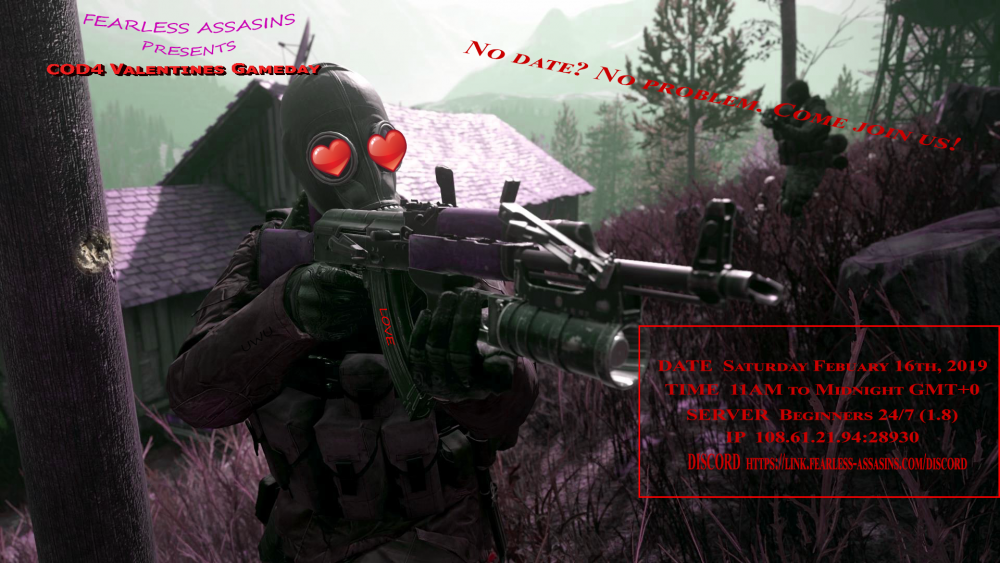 Insurgency Sandstorm
Time: 11AM to Midnight GMT+0
Date:  Sunday, February 17th
Server Name: =F|A= Recruiting  CooP #1 / =F|A= Custom CooP #2
Server IP: 178.63.72.133:2740 (CooP #1) 178.63.72.133:2748 (CooP #2)
Discord server : https://link.fearless-assassins.com/discord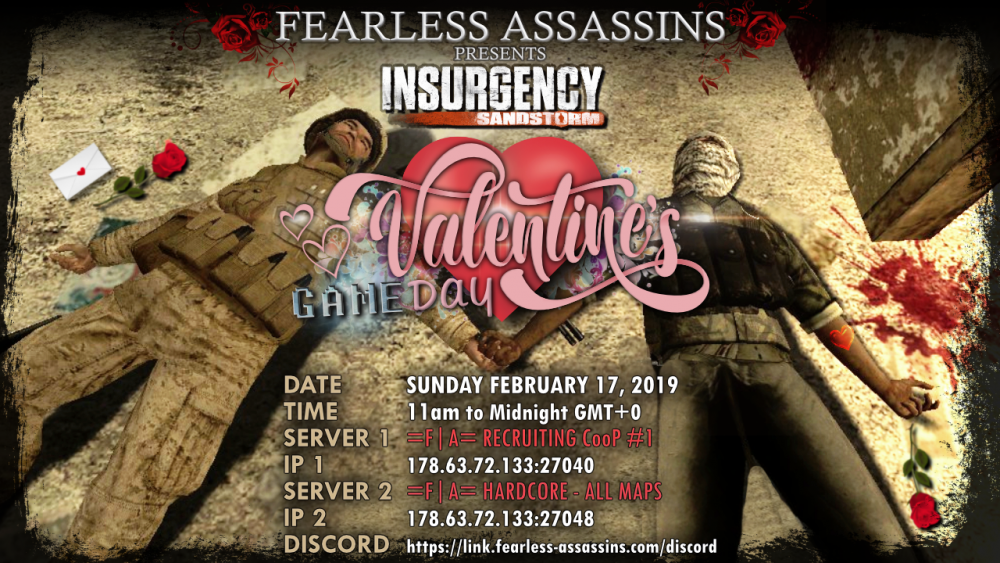 I hope to see you all there! Also, a special thank you to @n3g4n and @Sonofdoc for making these awesome posters!
<!— Large Date —>
Back on public demand - ETPRO servers - are coming back online again. Their are some security issues with Trackbase ET 3.00 windows binaries resulting in DDoS from our servers to other random sites. So while we worked on the patch - we had to shutdown ETPRO servers for a while.  We don't believe in screwing anyone else actively or passively and that's why we took the step to shutdown the servers while work on the new patch. 
For now we are running default ET 2.6b binaries and not ET binaries from Trackbase.  Here is server info - 
ETPRO Public Obj Server - /connect etproge1.clan-fa.com:27970
We will be adding more ETPRO and Scrim servers by this weekend. They will be available in US and GE location.  Their is an on going effort to promote ETPro and we will try to help as far as we can. 
<!— Large Date —>
Put your hands together to congratulate our two new staff members! @Gengis and @RendeL! This promotion in recognition of their ongoing support, unwavering loyalty and superb dedication is well deserved. I'm glad to have known these guys and Im sure with these two dudes in staff, we'll make FA even greater. A big thank you to you two for everything you've done for the clan!
I, hereby, sacrifice a chicken to celebrate this special occasion hehe!.
Well done guys!