Welcome to Fearless Assassins Gaming Community
We are glad you decided to stop by our website and servers. At =F|A= we strive to bring you the best gaming experience possible. With helpful admins, custom maps and good server regulars your gaming experience should be grand! We love to have fun by playing online games especially Enemy Territory, COD4, COD:MW3, BF3, Team Fortress, Minecraft, etc and if you like to do same then join us! Here, you can make worldwide friends while enjoying the game.
<!— CSS Styles for the Date —>
<!— Large Date —>
Insurgency team is offering free game for those who download and play it in next 48 hrs.  We run 3-4 servers in INS game and we will be hosting sandstorm servers as well. We host servers in US and Euro location. 
https://store.steampowered.com/app/222880/Insurgency/
Quote

Starting at 10:00 AM PDT today the original 'Insurgency' will be FREE TO KEEP on Steam for 48hrs. Simply install and play the game during the 48hr window and it is yours to keep forever. 
Source - https://steamcommunity.com/games/insurgency/announcements/detail/1703936520914355488
About Insurgency
Insurgency is an intense, immersive, hardcore, tactical shooter based on the award winning source engine mod 'Insurgency: Modern Infantry Combat'.
Take to the streets for intense close quarters combat, where a team's survival depends upon securing crucial strongholds and destroying enemy supply in this multiplayer and cooperative Source Engine based experience. The follow-up game to the award-winning Source mod, Insurgency is highly competitive and lethal, striking a balance between one-life gameplay and prolonged action.
About Insurgency: Sandstorm
Taking the original Insurgency formula and evolving it, the millions selling FPS comes enhanced and expanded . Insurgency: Sandstorm is built in Unreal Engine 4 with upgraded graphics, taking the series into a new era. Coming to PC and, for the first time, PlayStation 4 and Xbox One ; Insurgency: Sandstorm brings extended gameplay possibilities, improved immersion, and new game modes; all while retaining the lethal tactical action that made Insurgency the worldwide phenomenon it is today.
<!— Large Date —>
After a cold winter, and a rainy spring, we've all waited for this.

We were craving for Sun, beach, Mojitos...

And finally, at last, It's Summer Time!

To celebrate this Major event, let's start to frag hard again on our favorite games!

Take out your Swimsuits and your water pistols ladies and gentlemen, because it's going to get hot in here!

To make this even more enjoyable, it's not one date / one game, but three dates on three different games.
Bellow details: 
On Insurgency

Date: 28th of July

Time: Noon to Midnight GMT+0 (convert your timezone) http://www.thetimezoneconverter.com/

Server Name: =F|A=#2 COOP 35 ANGRY BOTS

Server IP:  178.52.72.133:27020

Details: New 35 Angry Bots, Custom Maps, Custom Weapons.
Discord : discord.gg/WAMJnH5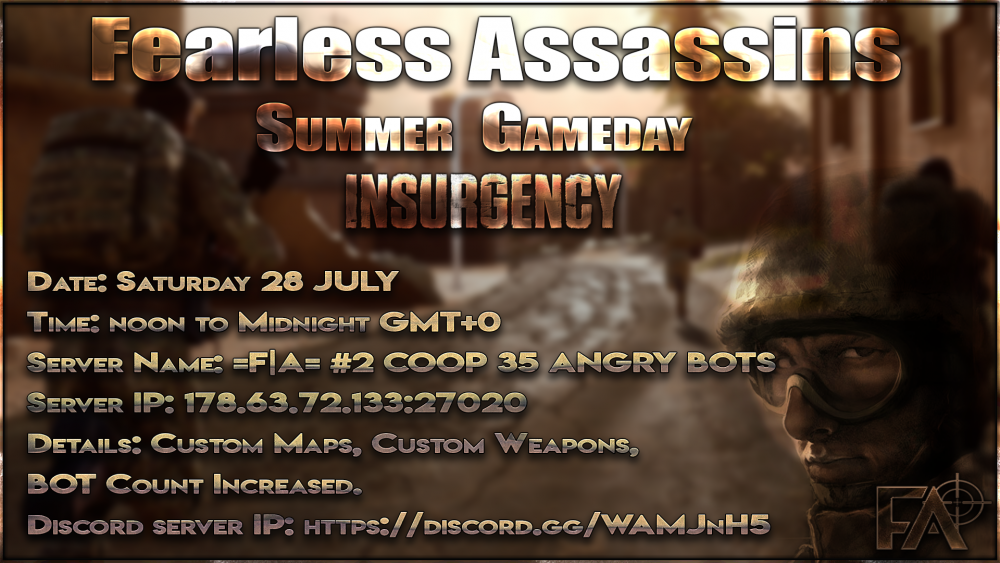 On Wolfenstein: Enemy Territory
Date: 29th of July

Time: Noon to Midnight GMT+0 (convert your timezone) http://www.thetimezoneconverter.com/

Server Name: =F|A= NoQuarter#3 XPSave 

Server IP:  nq3.clan-fa.com

Details: Panzerwar, sniperwar, riflewar, flamewar,shotgunwar,multiple war possiblities,speed and gravity adjustment and much more...
Discord : discord.gg/WAMJnH5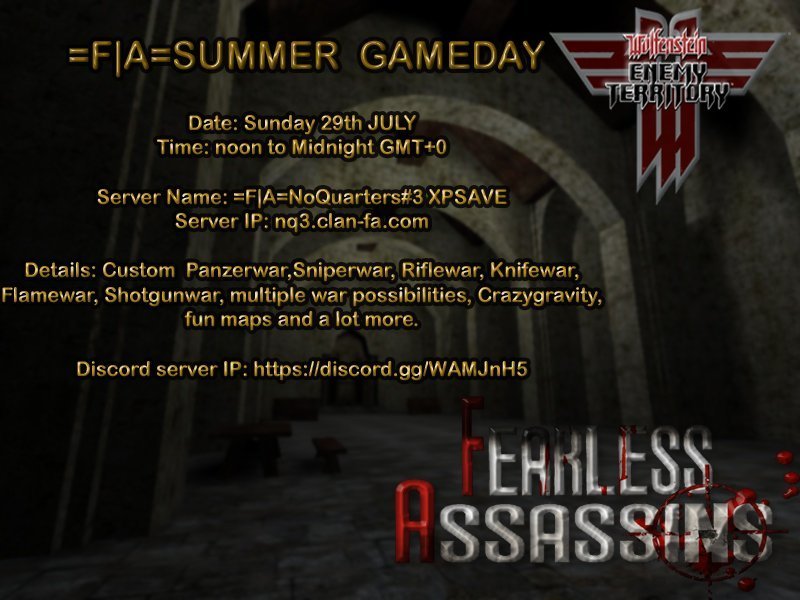 _____________________
On Day Of Infamy

Date: 5th of August

Time: Noon to Midnight GMT+0 (convert your timezone) http://www.thetimezoneconverter.com/

Server Name: F|A  Recruiting CooP #1

Server IP:  178.63.72.165:27030

Details: Custom Maps,Custom weapons.

Discord : discord.gg/WAMJnH5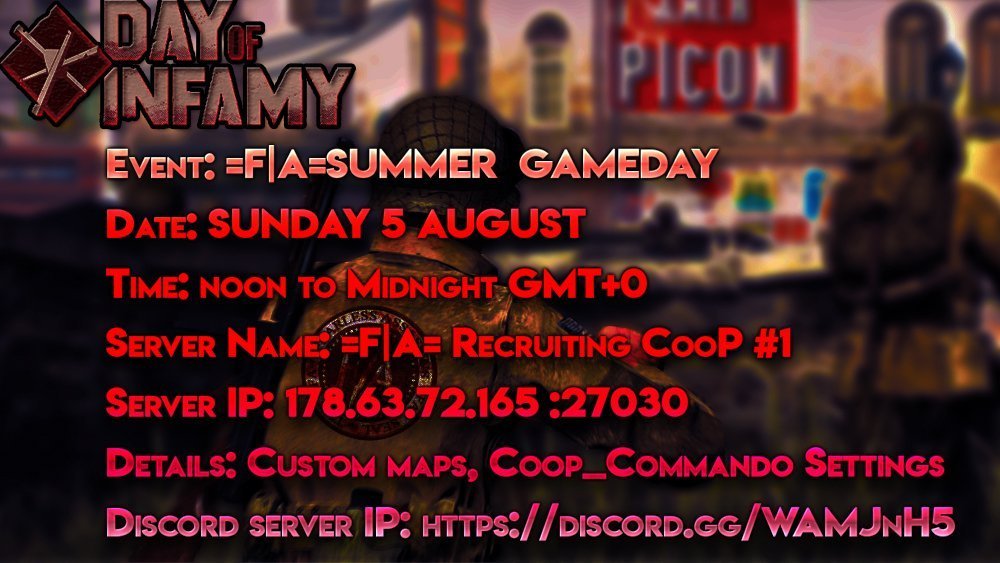 Thx to GFX team for helping and all the event organizers.
<!— Large Date —>
today the 4th of july is a american celebration and the country celebrate it's independance 

nice speech to bad there were aliens in it
<!— Large Date —>
We have moved our INS #2 server from US to Euro as a part of our long term plan to balance out INS and new INS servers.  Plan is to make below changes - 
2 INS US / 1 INS Euro 
1 DOI US / 2 DOI Euro
1 or 2 INS Sandstorm US / 2 INS Sandstorm Euro 
New INS #2 Server Details - 
It runs custom maps - checkpoints. If you want to suggest more custom map on our server, please let us know and we will gladly add it. Right now it's 12 slots with 20 to 36 bots. We can always tweak the bot count depending on the feedback and we might add option so that admins can change bot skills. This way if more players are on server, admin can change the skills of bots, so it becomes more competitive to win the map. Right now we have picked level 2 for bots. 
We are looking for some feedback for the new server. Feel free to visit it and share your feedback! This will officially replace old INS #2 server which had few outstanding issues since a while. New one is rock solid so far.

<!— Large Date —>
We are proud to present to you the =F|A= 1on1 ETPro Tournament! This cup will pit individual players against each other in a 1on1 battle.
The tournament will begin with a round-robin group stage, followed by the top two participants from each group moving on to a double-elimination bracket. Signups will remain open until June 18th at 6 PM EST and matches will begin approximately one week later!
  

Before signing up, please read our rules. You may sign up by filling out the following form and posting it in this thread:
Please note: you must join the ETPro club before you're able to post in this thread. 
Good luck to all those looking to participate, and may the best man win!
W:ET Discord Group for events - https://discord.gg/E5g2ZJZ
Feel free to join ETPRO Club for more details and updates -