Welcome to Fearless Assassins Gaming Community
We are glad you decided to stop by our website and servers. At Fearless Assassins (=F|A=) we strive to bring you the best gaming experience possible. With the help of many dedicated and loyal admins, various servers, custom made maps and friendly server regulars your gaming experience should be memorable! We, at the FA community, share a special bond that resembles that of a family. This maximises the fun experience we endure daily when we play together with games such as Wolfenstein: Enemy Territory, The Call of Duty Series, Insurgency, Day of Infamy, Counter Strike Series, Team Fortress 2, Minecraft & The Battlefield Series. Join the FAmily and play with us! You will be guaranteed to make many great friends from all over the globe!
Anyone from any race and country, speaking any language can join our VoIP (Discord) and gaming servers. We have clan members from all over the world so there is always someone around to talk to or play with. We do not care about the fluency of your English or the level of skill you may posses in-game. We only believe in making new friends in order to build and strengthen our community for years to come. If having a good time is your main objective, then you have certainly come to the right place and our welcome to join us any time!
<!— CSS Styles for the Date —>
<!— Large Date —>
You want fun , instead of playing objectives , to much waiting for game days , event's?
So come to play every Sunday from 12 to 15 CET on our F|ABeginners2 server!!!
No more sharing panza's , everyone will have it .
Want to try your K43 or M1 skill's , come here and get some headshot's. 
You want to grill in those cold day's  , okay come to server and try mighty flamethrower
Something is missing , "kein problem" make sure to contact our member's and add your suggestion what to play on next map!
Everyone is welcome , have some fun and enjoy it!
Also to thank's @K3rmit for making me suggest this event and @RendeL for approving this kind of fun!
<!— Large Date —>
Let us congratulate and welcome the following people to the management team
all 3 have have been great over the last year some working hard in the background and 
others on our servers or in some cases both
i know we dont tell you enough or often but we do sincerely appreciate all you do
thank you and congrats well deserved 
NEW CO LEADERS 
@K3rmit (b2)
@Letdown(jay2)
NEW STAFF
congrats again levels and groups are set
<!— Large Date —>
Dear fellow clan members, friends and regulars
On behalf of all the Fearless Assassins we invite you to join us for a weekend to celebrate this Halloween. 
A whisper from witches, ghosts and cemeteries. Come trick of threat with us in a war party and enjoy a good time because it is
Halloween Gameday!
We'll be hosting 2 games and a Discord party on the weekend of October 31st - November 1st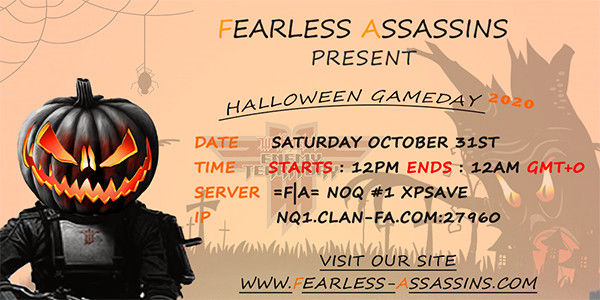 ENEMY TERRITORY
DATE: SATURDAY OCTOBER 31ST
TIME: STARTS AT 12PM - ENDS AT 12AM GMT+0
SERVER: =F|A= NOQ #1 XPSAVE
IP: NQ1.CLAN-FA.COM:27960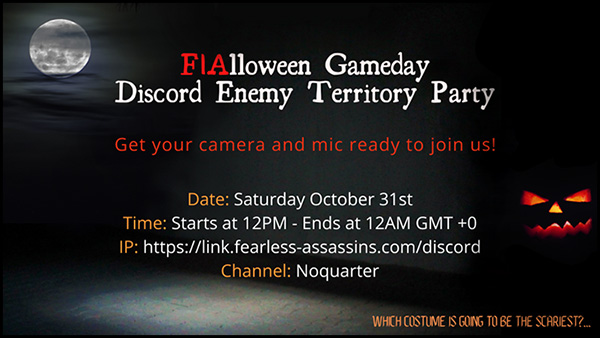 Join our Discord Enemy Territory Party
hosted by Agustina and Martina
We dare you to put a costume on video chat
DATE: SATURDAY OCTOBER 31ST
TIME: STARTS AT 12PM - ENDS AT 12AM GMT +0
DISCORD: https://link.fearless-assassins.com/discord
CHANNEL: Noquarter
----------------------------------------------------------------------------------------------------------------------------------------------------------

INSURGENCY
DATE: SUNDAY NOVEMBER 1ST
TIME: STARTS AT 12PM - ENDS AT 12AM GMT +0
SERVER: =F|A= BOT FRENZY #2 |CUSTOM|HARDCORE|
IP: INS2.CLAN-FA.COM:27020
Join us on Discord
https://link.fearless-assassins.com/discord
---------------------------------------------------------------------------------------------------------------------------------------------------
HALLOWEEN GAMEDAY!
Join the fun!

Special thx to @Sasirou @bLade. @Agustina for the making of great posters and of course to everyone else involved in this event. 
<!— Large Date —>
Allow me to introduce you all to our new insurgency/ET additions to our Recruiting/management team 
New co leader @Carbonautics
New staff  @major stalvern(hmm @dont work for his name) https://fearless-assassins.com/profile/23579-major-stalvern/ @Major Stalvern we fixed it, somehow, says RedBaird
New recruiter  @ViP3r* 
thank you guys for all your hard work and being the longest guys here holding our insurgency/doi side together
thanks for being on servers and discord daily and helping  were needed 
big ty to carbonautics without him im sure insurgency would have died off he has basically rebuilt all our server and 
add some fun things for all to enjoy and fixed a lot of issues along with all the other forum work he did on a regular basis
so congrats to you all again well deserved promos keep up what your doing.
<!— Large Date —>
I want congratz our new Recruiting team member.
Congratulations. Well earned promo. Always willingness to help. Always making clan better to other players and members. Just remember that don't do too much or you burn yourself and lose love to admin work. Balance with fun, gaming, clan duties and reallife is important to remember and retain.
Once again Welcome and Congratulations. Only @daredevil can fix your group at site. He will fix it once he is able to. In mean time you can ask lvl 17 in servers. I updated lvl 17 to your profile.