Welcome to Fearless Assassins Gaming Community
We are glad you decided to stop by our website and servers. At Fearless Assassins (=F|A=) we strive to bring you the best gaming experience possible. With the help of many dedicated and loyal admins, various servers, custom made maps and friendly server regulars your gaming experience should be memorable! We, at the FA community, share a special bond that resembles that of a family. This maximises the fun experience we endure daily when we play together with games such as Wolfenstein: Enemy Territory, The Call of Duty Series, Insurgency, Day of Infamy, Counter Strike Series, Team Fortress 2, Minecraft & The Battlefield Series. Join the FAmily and play with us! You will be guaranteed to make many great friends from all over the globe!
Anyone from any race and country, speaking any language can join our VoIP (Discord) and gaming servers. We have clan members from all over the world so there is always someone around to talk to or play with. We do not care about the fluency of your English or the level of skill you may posses in-game. We only believe in making new friends in order to build and strengthen our community for years to come. If having a good time is your main objective, then you have certainly come to the right place and our welcome to join us any time!
<!— CSS Styles for the Date —>
<!— Large Date —>
Allow me to introduce you all to our new insurgency/ET additions to our Recruiting/management team 
New co leader @Carbonautics
New staff  @major stalvern(hmm @dont work for his name) https://fearless-assassins.com/profile/23579-major-stalvern/
New recruiter  @ViP3r* 
thank you guys for all your hard work and being the longest guys here holding our insurgency/doi side together
thanks for being on servers and discord daily and helping  were needed 
big ty to carbonautics without him im sure insurgency would have died off he has basically rebuilt all our server and 
add some fun things for all to enjoy and fixed a lot of issues along with all the other forum work he did on a regular basis
so congrats to you all again well deserved promos keep up what your doing.
<!— Large Date —>
I want congratz our new Recruiting team member.
Congratulations. Well earned promo. Always willingness to help. Always making clan better to other players and members. Just remember that don't do too much or you burn yourself and lose love to admin work. Balance with fun, gaming, clan duties and reallife is important to remember and retain.
Once again Welcome and Congratulations. Only @daredevil can fix your group at site. He will fix it once he is able to. In mean time you can ask lvl 17 in servers. I updated lvl 17 to your profile.
<!— Large Date —>
Dear fellow clan members, friends and regulars
On behalf of all the Fearless Assassins we invite you to join us for a "Throwback Sunday"Game-day, Featuring Fearless-Assassin's Original Maps Server! Lets take a break from our comfort zones and come together to kick it Old School on our Classic Map server!
For a much needed throwback to where it all Began.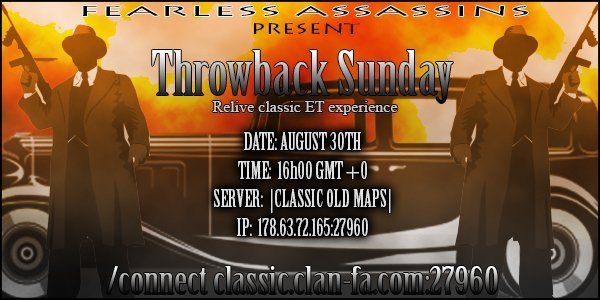 Date: Sunday August 30th
Time: 4PM to 12AM GMT+0
Server: |Classic Old Maps|
IP: 178.63.72.165.27960
Don't forget to join us on Discord
https://link.fearless-assassins.com/discord
Special thx
@TheRoach for coming up with the idea for this unique GameDay, suggesting theme for poster and making the draft for the announcement
and everyone else involved thank you!

<!— Large Date —>
Dear ETPlayers, regulars and members
The Fearless-Assassins community is proud to present you our new
=F|A= |CLASSIC OLD MAPS|
SERVER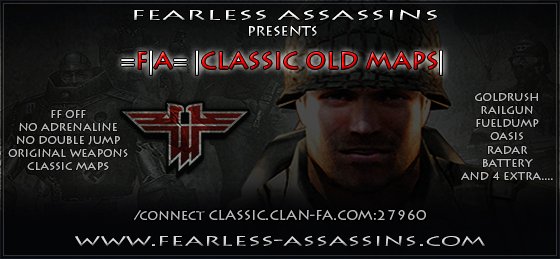 FF off
No Adrenaline
No double jump
Original weapons
Classic maps
JOIN THE FUN!
/connect classic.clan-fa.com:27960
or
/connect 178.63.72.165:27960
Enjoy Original 6 + 4 classics
Original 6:
Battery
Railgun
Oasis
Goldrush
Radar
Fueldump
Extra 4:
Frostbite
Special Delivery_TE
Supply Depot
Adlernest
<!— Large Date —>
Hello fraggers and team players,
We are getting some DDoS recently and hence the slowness on website and sometime server goes off. I don't think, I need to explain the reason for it. To make it short, either annihil cheater group is pissed is because we are banning them or some clan is pissed and want to make their server popular by DDoS'ing ours. 
We appreciate all the support and help from the members and regulars during this time. 
Thank you.