Welcome to Fearless Assassins Gaming Community
We are glad you decided to stop by our website and servers. At Fearless Assassins (=F|A=) we strive to bring you the best gaming experience possible. With the help of many dedicated and loyal admins, various servers, custom made maps and friendly server regulars your gaming experience should be memorable! We, at the FA community, share a special bond that resembles that of a family. This maximises the fun experience we endure daily when we play together with games such as Wolfenstein: Enemy Territory, The Call of Duty Series, Insurgency, Day of Infamy, Counter Strike Series, Team Fortress 2, Minecraft & The Battlefield Series. Join the FAmily and play with us! You will be guaranteed to make many great friends from all over the globe!
Anyone from any race and country, speaking any language can join our VoIP (Discord) and gaming servers. We have clan members from all over the world so there is always someone around to talk to or play with. We do not care about the fluency of your English or the level of skill you may posses in-game. We only believe in making new friends in order to build and strengthen our community for years to come. If having a good time is your main objective, then you have certainly come to the right place and our welcome to join us any time!
Has it been 13 years since our founding? Yes, since 2008! It feels like it was only last year that we had set up shop, but with all the faces new and familiar, I can see that we have endured many years and will continue to provide a community for our F|Amily.

I want to thank everyone in F|A for their contributions and helping our clan provide a fun and playful atmosphere.
Thank you guests, VIPS, and donors who have helped us to provide service to our community.
Thank you leaders, coleaders, staff members, recruiting team, members, and trials for your dedication in helping our clan to move towards the future.
Thank you everyone, for helping us stay #1 in the ET community.
 
It has been awesome to game with you throughout the years.

@ET Trial@ET Member@DOI Trial@DOI Member@Insurgency Trial@Insurgency Member@COD Trial@COD Member@Senior Member@Recruiting Team@Staff@Co-Leader@Leader
Happy Birthday F|A.

Dear ET players,
Dear Insurgency players,
On behalf of Fearless Assassins
for our 13th birthday we would like to invite you to celebrate Halloween with us.
Halloween Gameday, Saturday October 30th for Enemy Territory , and Sunday October 31th for Insurgency! 12PM - 12AM UTC/GMT
Be ready for your worst nightmares!
Do you dare to enter this haunted place?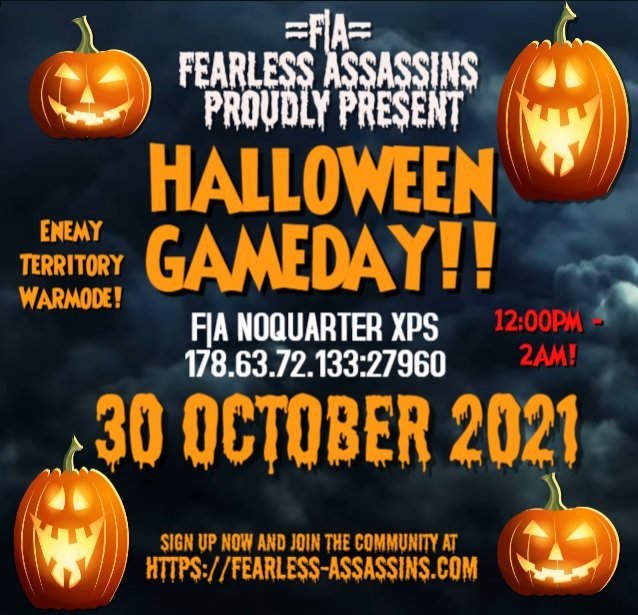 Then gather your weapons, get ready to smash some pumpkin heads and move those skeleton bones over to :
Enemy Territory
Date: Saturday October 30th
Time: Starts at 12PM - Ends at 12AM GMT +0  [2 hours break from 5PM to 7PM] 
Server: =F|A= NOQ1 #1 XPSAVE
IP: nq1.clan-fa.com:27960
Join our Discord Enemy Territory Party
DISCORD: https://link.fearless-assassins.com/discord
CHANNEL: Noquarter
-----------------------------------------------------------------------------------------------------

Insurgency
Date: Sunday October 31th
Time: Starts at 12PM - Ends at 12AM GMT +0 [2 hours break from 5PM to 7PM] 
Server: =F|A= Bot FRENZY #2 |Custom|Hardcore|
IP: ins2.clan-fa.com:27020
HALLOWEEN GAMEDAY!
Join the fun!
Fearless-Assassins Discord major update
---
Discord discovery
What is Discord discovery ?
Discord discovery is a place that allows you to search or discover servers.
To access Server Discovery, press the Compass icon at the bottom of the server list (on the left side bar)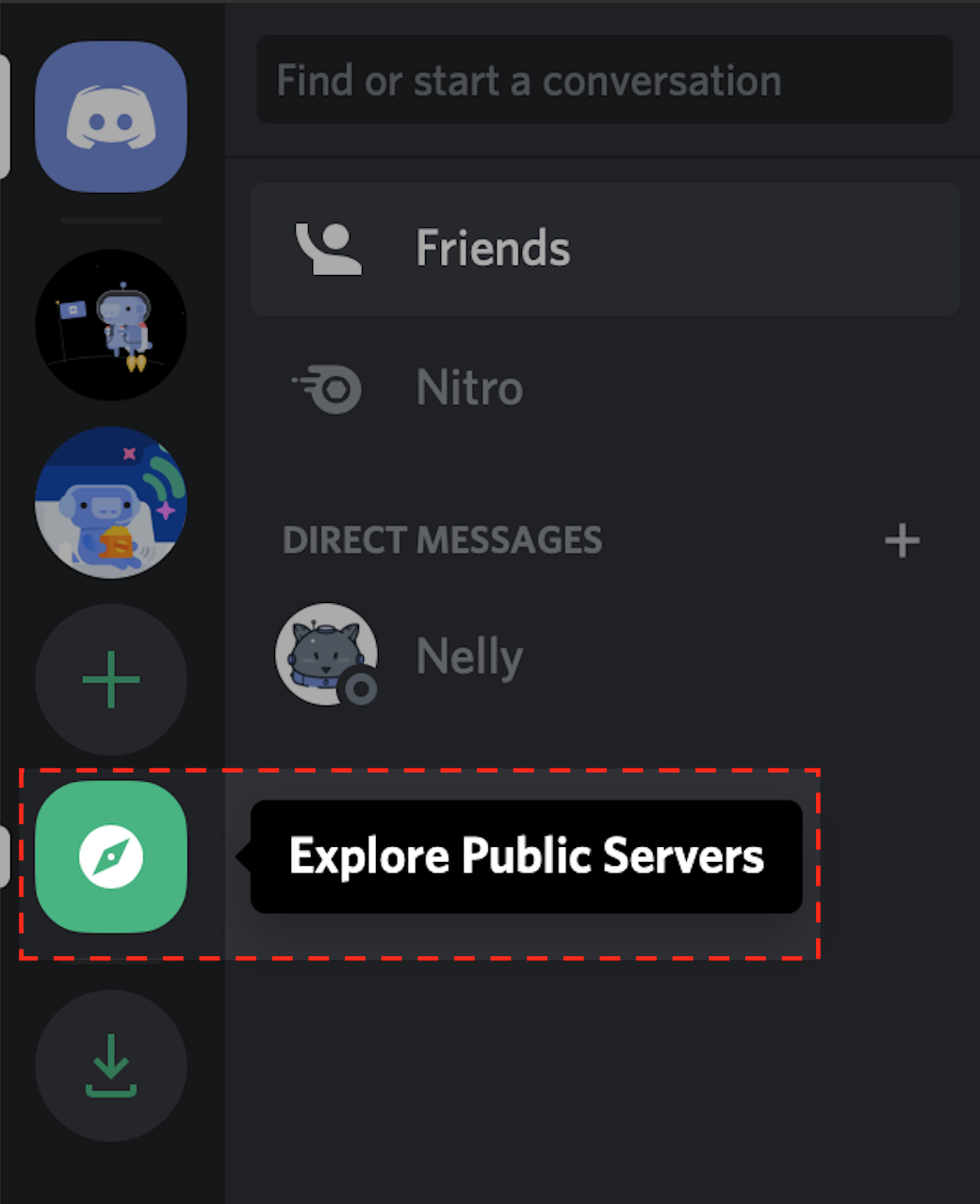 You can search for new communities by browsing by categories, or by directly searching with the search bar!

To see : https://support.discord.com/hc/fr/articles/360023968311-Server-Discovery
What is the impact for us ?
Discord allows us to advertise our community in the same way as social networks. This addition to the catalog will allow us to be more visible and bring more people into the community.
However, more visibility also means more risk of spam. I advise you to see our publication on this subject here : https://fearless-assassins.com/forums/topic/123446-discord-security-advice/
New discord logo
The first impression of a server is extremely important. It is this first impression that will encourage or dissuade a user to join the server.
The logo of a discord server being the first thing a user sees, it is important to have a modern logo. That's why we are going to make a test with a new logo !

I reused the logo posted by @ScoOfi. Many thanks to him
Discord Banner update
To follow the logo change, we will also use a new banner that is visible at the top of the server or in the invitation links 


Role logo
To differentiate members from non-members, the roles now have logos !


Server Boosting

Server Boosts is a Discord feature to unlock some fresh new and improved collective perks for community server.
I am currently thinking on a system to better reward members who boost the discord server
Also, don't forget that you get free boosts when you have nitro!
I am looking to any suggestion or feedback that could help us in improving our discord server
It's my greatest honor to announce our new Staff member  @Ins4ne !
You have done a amazing job. Recruited and trained a good amount of new clan members.
You have spent countless hours on our game servers, forums, DC and always
helped players with their problems. True gentleman and it's always a pleasure to work with you,
so a big thank you for everything you have done for us.

Cheers!
Discord security advice
---
Since server raiding and scam links are increasing, we are also increasing the security into our Discord server
Terminology
'Raid' 'Raider' - A raid is where a large number of users will join a server with the express intention of causing issues for the server. A raider is an account engaging in this activity.
'Self-bot' - A self bot is an account that's being controlled via custom code or tools. This is against Discord's TOS. In the context of raids and moderation, these accounts are automated to spam, bypass filters or engage in other annoying activities.
'Phishing scam link' - Phishing scam link is a fraudulent ("spoofed") message/link sent by an attacker to trick a human victim into revealing sensitive information to the attacker or to deploy malicious software on the victim's infrastructure like ransomware. 
How do detect malicious links ?
First of all, never click on links that are send from people that are untrusted !
The most obvious way to find out if a link is a fraudulent link is to look at why the link was sent to you : 
Someone sends you a link, do I know this person ?

If someone sends you a link that you didn't ask for, why is that person sending it to you ?

If someone offers you free items (giveaway/lottery) by clicking on the link, what does this person gain by giving you this items ?
Why would an "official" discord account advertise by message and not by mail?
A person will never send you a gift without a reason, especially if you don't know them
It is also important to check the url, and especially the domain name !
If a so-called official link from discord is sent to you, check that the link is from discord.com
Check carefully the domain name. In general, characters are exchanged or are added (exemple discord => discorde, dlscord, discorb, ...)
Check carefully the extension (suffix) of the domain name. In general, a commercial site will end with .com, if it is something else, be careful (exemple discord.com => discord.net, ...)
Exemple of phishing link : 
How to report malicious links ? 
Report the user to Staff+ members so that they ban the member from the discord server

Please always take a screenshot when doing the report
Report by private message 
Report by contact-us if nobody answer

Report the user to discord by using the report button
(optional) Report the link to Google without clicking on it so that when people go there, they get a warning page : https://safebrowsing.google.com/safebrowsing/report_phish/
What to do if I click on a malicious link ?
Change your Discord password
If attacker already changed your password

Try to change your password with the forgotten password feature
Open a ticket into Discord support : https://support.discord.com
Open a contact-us so that we can block the stolen account
It's important to report your account to us with our contact-us because your account is trusted by other members. If your account send phishing to other members, there is more chance that they click on it since it's a "friendly" account !
What did Fearles Assassins added to discord to improve your security ?
We have added a mandatory verification system for all newcomers. When a user joins the Discord server, the user receives a message with a reCAPTCHA that must be validated.
We use for the verification : 
Cloudflare security

Verify browser integrity
Verify that the ip is not a known bot
Verify that the ip is not a Tor ip
Avoid DDOS / website exploit

Google reCAPTCHA

Verify that the user is not a bot

Do not hesitate to ask us questions or to send us suggestions to improve security