Welcome to Fearless Assassins Gaming Community
We are glad you decided to stop by our website and servers. At =F|A= we strive to bring you the best gaming experience possible. With helpful admins, custom maps and good server regulars your gaming experience should be grand! We love to have fun by playing online games especially Enemy Territory, COD4, COD:MW3, BF3, Team Fortress, Minecraft, etc and if you like to do same then join us! Here, you can make worldwide friends while enjoying the game.
Posted By:
ancientmule
Apr 23 2015 10:17 AM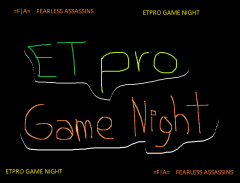 Paintz zkilzz.. deal with it..
Ladies and "Gentlemans"
This saturday we have a nice Game/Fun night to play ETpro in our servers
according to this poll and thread: http://fearless-assa...-game-night-8d/
So get ready to have a great night of fun in our server:
Server: /connect scrimeuro.clan-fa.com:27980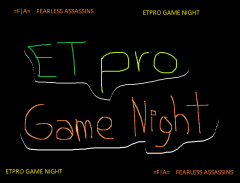 Paintz zkilzz.. deal with it..
Time: 6 PM GTM +1
11 am west coast USA
2 pm east coast USA
7pm U.K
8 pm, Germany, Nethelrands, Poland
9 pm, Finland, Greece
Also join us on Teamspeak:
Server Name: =F|A= Clan Teamspeak
Server IP: ts.clan-fa.com:4666
CYA THIS SATURDAY!!
P.S: Can someone move this to make an announcemet?
Comments: 64 :: View Comments
Posted By:
von Rantala
Apr 14 2015 09:14 AM
Hey Jaymod 1 Recruiting server got new home, and it is moved to new server, so if you lost your lvls contact lvl 17+ (recruiting team member+) in server to set you up, if you lost your xp also that can not be restored, because in Jaymod mode there is no !give back xp commands as we have in Silent servers. We apologize that peoples lost they xp and if you was raising your xp to apply we ofcourse accept old xp pictures to show that you have played in our servers and there no need to be 40k xp then. As i say we are sorry that peoples lost they lvls and xp, but sometime server need new home and we always try to make decisions what help our clan and our players and servers in long run.
Our goal is make everyone enjoy in our servers! So have fun and enjoy great atmosphere with great players and settings in Jay1 Recruiting server!
Comments: 32 :: View Comments
Posted By:
Scream
Apr 12 2015 09:46 AM
Hello there!
I'd like you to congratulate our new peeps that have just got a higher promotion. These are:
Redbaird - promoted to Staff from Recruiting team, and
Gengis - promoted from ET Member to Recruiting team
They have shown their dedication towards the community and I'm sure they will be more than glad to increase it.
Once again, congrats guys, it was well deserved! Oh, and welcome to hell!

Comments: 59 :: View Comments
Posted By:
Platonic War
Apr 06 2015 11:24 PM
The 18th of april. In 1946 it's when the international court of justice holds its inaugural meeting.
For gamers all over the world however, it will go down in history as the day when when international Fun Radars were experiencing serious math errors, causing them to explode. Yes, dear reader, our next ET gameday is coming!
We will be celebrating spring, because Europeans grabbed power within the event staff and decided to bully the Springless

Event: =F|A= Spring Frag Feast
Wars: panzerwar, sniperwar, riflewar, gravity adjustment and of course normal fights.
Date and time: noon, Saturday 18th of April until 7.00 A.M., Sunday 19th of April (GMT)
Server Name: F|A NODOWNLOAD XPSAFE FOREVER | FUN #1
Server IP: fun1.clan-fa.com

Teamspeak
Server Name: =F|A= Clan TeamSpeak
Server IP: ts.clan-fa.com:4666

Join us in blowing tanks, popping heads and riflenading Redbaird.
Did you know spring was a synonym to recoil?

Your Flourishing Flowers:
Kat0n
D..X
RedBaird
Platonic War
Von Rantala
Xernicus
Reverze
DJ
Dougl@s
D!rk
L3fty
Masa_1964

Supervisors:
Maximo Decimo
AnniB@l
Nani
Tipsy
Special thanks to D!rk for the poster!
Comments: 95 :: View Comments
Homepage