Welcome to Fearless Assassins Gaming Community
We are glad you decided to stop by our website and servers. At =F|A= we strive to bring you the best gaming experience possible. With helpful admins, custom maps and good server regulars your gaming experience should be grand! We love to have fun by playing online games especially Enemy Territory, COD4, COD:MW3, BF3, Team Fortress, Minecraft, etc and if you like to do same then join us! Here, you can make worldwide friends while enjoying the game.
Posted By:
audrey
Aug 28 2015 05:54 AM
=F|A=September Surrender
Ba de ya - say do you remember
Ba de ya - dancing in september

No, luckily, the event staff is not announcing an exclusive Earth, Wind and Fire show for all FA members and VIPs.
We are announcing the next grand gameday and we call all ET players to make it a show to remember!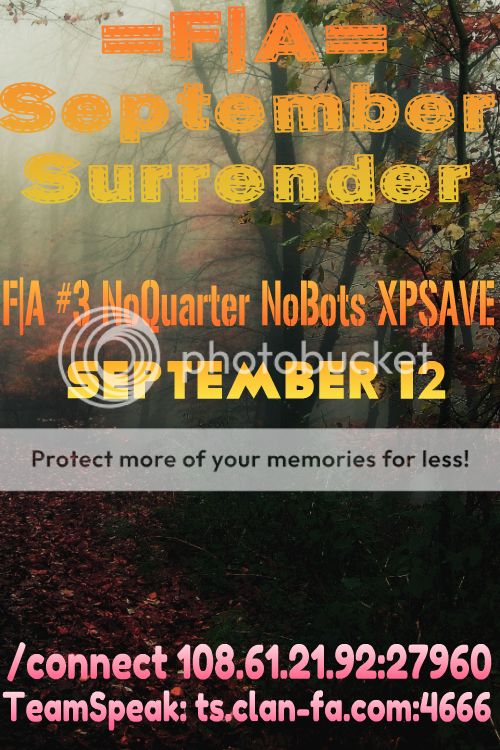 Event: =F|A= September Surrender
Date and time: September 12th, noon-7am BST (converter)
Server Name: F|A #3 NoQuarter NoBots XPSAVE
Server IP: nq3.clan-fa.com
Teamspeak IP: ts.clan-fa.com:4666
New starting with this Gameday: you can win unique awards, designed for you by Mr. Karizmatic.
* Gameday Junkie (fun gameday, most hours of actual gameplay proven by trackbase) :
Required: screenshot of trackbase showing your activity during the Gameday.
Required: screenshots of your visit to every game.
When we run wars on gamedays, you will be able to win following awards:
Be there, help us make it an unforgettable day!
Your September Sunnydays:
Special thanks to Audrey for making the poster and to Mr. Karizmatic for making awards and video!
Comments: 22 :: View Comments
Posted By:
daredevil
Aug 15 2015 07:52 AM
Hello all,
If you had purchase private slot password for any server, they would be changing soon or for some servers they are already changed for security reasons. If you have purchased private slot subscription and it's still active, please create ticket here and I will get you new password.
We have to do this every few months or so for security reasons. If you don't have private password then you can purchase it from our store.
Kind Regards
Comments: 0 :: View Comments
Posted By:
Dest!Ny
Aug 13 2015 12:27 PM
We hope nobody thought that the ETPRO Gamenights would end after July, because they wont! The fun continues every single friday!

Event: ETPRO Gamenight
Date: Every Friday
Friday gamenights: August 14th (!), August 21th, August 28th, September 4th, September 11th, September 18th, September 25th
Sunday gamenights: August 23, August 30, September 6th , September 13th, September 20th, September 27th. Time will be the same as on Fridays, from 19:00 to 21:00 London time.
Time: 19:00-21:00 (London time GMT+1)
Server Name:

F

|A EURO ETPRO OBJ

SERVER

->

http://et.trackbase.net/server/44319/
Server IP: 178.63.72.175:27970 or sw1.clan-fa.com:27970



You can convert London's timezone to yours ( http://www.timeandda.../converter.html ) or use the worldclock ( http://www.timeandda...clock/uk/london )

(!) First gamenight is tomorrow, you better not miss it!

Make sure you enjoy yourself

Comments: 31 :: View Comments
Homepage