Welcome to Fearless Assassins Gaming Community
We are glad you decided to stop by our website and servers. At =F|A= we strive to bring you the best gaming experience possible. With helpful admins, custom maps and good server regulars your gaming experience should be grand! We love to have fun by playing online games especially Enemy Territory, COD4, COD:MW3, BF3, Team Fortress, Minecraft, etc and if you like to do same then join us! Here, you can make worldwide friends while enjoying the game.
Posted By:
daredevil
Today, 04:32 AM
US & Euro machine both will be down at midnight sometime today or following week. I will perform updates, maintenance and some clean ups. Servers will be back on within 5 mins time frame.
Thank you
Comments: 1 :: View Comments
Posted By:
daredevil
May 01 2015 06:18 AM
I have updated map rotation on F|A BEGINNERS #1. Server IP: jay3.clan-fa.com:27960
New map rotation:

sw_oasis_b3, 0, 64,
supplydepot2, 0, 64,
sp_delivery_te, 0, 46,
pirates, 0, 40,
et_mor2_night_final, 8, 64,
goldrush-gals, 0, 64,
venice_ne4, 12, 64,
caen2, 0, 32,
mlb_temple, 30, 46,
teuthonia_final, 0, 40,
eagles_2ways_b3, 32, 46,
bba0-beta2, 30, 64,
subway, 24, 64,
etdo6, 16, 64,
fueldump_uvf, 18, 40,
tankbuster, 24, 40,
italyfp2, 12, 46,
frostbite, 0, 50,
et_beach, 0, 64, 
bremen_final, 0, 40,
braundorf_final, 0, 36,
adlernest, 0, 50,
etdo1, 16, 64,
frost_final, 4, 24,
mml_minastirith_fp3, 40, 64,
baserace, 20, 44,
UJE_00, 20, 64,
dubrovnik_final, 12, 32,
Karsiah_te2, 0, 34,
transmitter, 12, 36,
am_hydro_dam, 32, 64,
battery, 0, 24,
tc_base, 0, 34,
axislab_final, 6, 32,
Enjoy!
Comments: 13 :: View Comments
Posted By:
ancientmule
Apr 23 2015 10:17 AM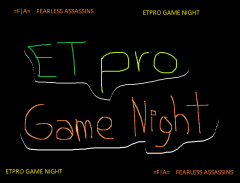 Paintz zkilzz.. deal with it..
Ladies and "Gentlemans"
This saturday we have a nice Game/Fun night to play ETpro in our servers
according to this poll and thread: http://fearless-assa...-game-night-8d/
So get ready to have a great night of fun in our server:
Server: /connect scrimeuro.clan-fa.com:27980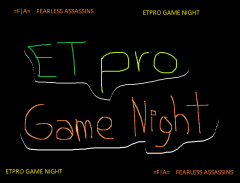 Paintz zkilzz.. deal with it..
Time: 6 PM GTM +1
11 am west coast USA
2 pm east coast USA
7pm U.K
8 pm, Germany, Nethelrands, Poland
9 pm, Finland, Greece
Also join us on Teamspeak:
Server Name: =F|A= Clan Teamspeak
Server IP: ts.clan-fa.com:4666
CYA THIS SATURDAY!!
P.S: Can someone move this to make an announcemet?
Comments: 82 :: View Comments
Posted By:
von Rantala
Apr 14 2015 09:14 AM
Hey Jaymod 1 Recruiting server got new home, and it is moved to new server, so if you lost your lvls contact lvl 17+ (recruiting team member+) in server to set you up, if you lost your xp also that can not be restored, because in Jaymod mode there is no !give back xp commands as we have in Silent servers. We apologize that peoples lost they xp and if you was raising your xp to apply we ofcourse accept old xp pictures to show that you have played in our servers and there no need to be 40k xp then. As i say we are sorry that peoples lost they lvls and xp, but sometime server need new home and we always try to make decisions what help our clan and our players and servers in long run.
Our goal is make everyone enjoy in our servers! So have fun and enjoy great atmosphere with great players and settings in Jay1 Recruiting server!
Comments: 37 :: View Comments
Homepage