Welcome to Fearless Assassins Gaming Community
We are glad you decided to stop by our website and servers. At =F|A= we strive to bring you the best gaming experience possible. With helpful admins, custom maps and good server regulars your gaming experience should be grand! We love to have fun by playing online games especially Enemy Territory, COD4, COD:MW3, BF3, Team Fortress, Minecraft, etc and if you like to do same then join us! Here, you can make worldwide friends while enjoying the game.
Posted By:
Guardian
Jan 15 2017 07:44 AM
Thanks to Reavyn for making this awesome poster!!!!

=F|A= CoD4 Gameday!
F|A is pleased to announce the first COD Gameday of 2017! This will be held on a changed killstreaks server with all perks available again!
And not only that, over the course of the gameday we will also be changing some gravity and possibly even speed settings!
So do not hesitate and come join us on Sunday January 29th on our Killstreaks server!
Gameday name: F|A COD RESPAWN
Game Day: January 29th, 2017
Event Time:

9AM to 9PM PST (Seattle / LA)
12AM to 12PM EST (East Coast USA)
6PM to 6AM GMT+1 (Paris)

Gameday Server: F|A New Killstreaks
Gameday IP: 108.61.21.94:28930
Teamspeak: ts.clan-fa.com:4666
Please respond on this thread and let us know what hours you are available to attend. If you can assist with our promotion efforts by using binds in-game to advertise this event it would be appreciated. Any suggestions for making this day a success are welcomed.We would like to have at least one admin in attendance at all times during the event to supervise and control the game variations. Any admin that are attending and willing to help out, please respond with the times you are available.

We look forward to seeing all at the F|A COD RESPAWN!
Comments: 6 :: View Comments
Posted By:
Dest!Ny
Dec 26 2016 08:10 AM
F|A is happy to announce another group of game nights to come in the month of January!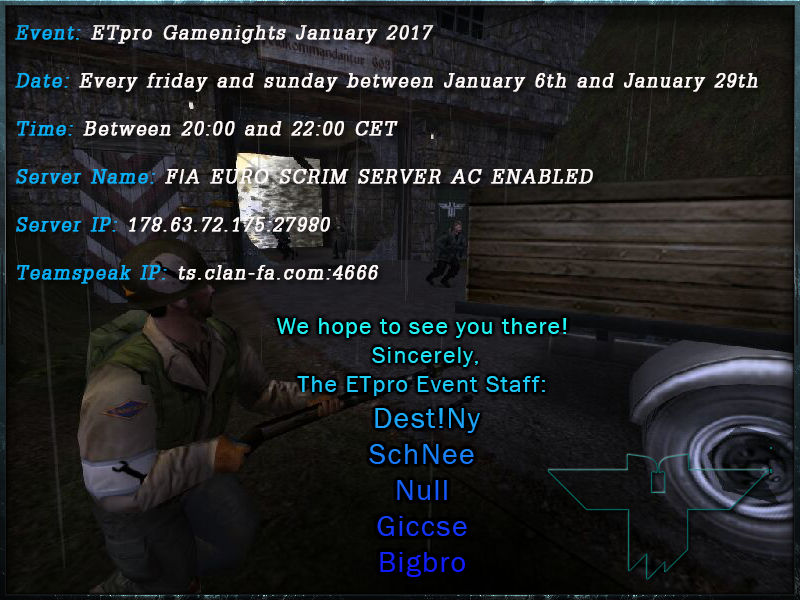 Event: ETpro Gamenights January 2017
Date: Every Friday and Sunday between January 6th and January 29th
time: Between 20:00 and 22:00 CET (convert your timezone)
Server Name: F|A EURO SCRIM SERVER AC ENABLED
Server IP: 178.63.72.175:27980
Teamspeak IP: ts.clan-fa.com:4666

We hope to see you there!

Sincerely,
The ETpro Event Staff

Dest!Ny
Schnee
null
Giccse
Bigbro
Comments: 75 :: View Comments
Posted By:
von Rantala
Dec 19 2016 07:09 AM
I would strongly suggest to donate for server and forum bills. Please post here once you donate towards our early target.

Why to donate? http://fearless-assa...m/donation.html

Quote from old clan leader Milli:


Quote
Ok peeps, here's the deal.

Take a look at clans that have survived as long as we have and you'll see ONE thing that makes us different. We don't charge for membership! We don't give promotions to those who pay more!

Have a favorite server and want to help keep it going? $5 a month from you will help pay for it! Its not hard to do. I have paypal directly linked to my bank account, and it auto-withdraws once a month. What is $5/month you ask? Its a pack of smokes for those of you who do. Its less than a month subscription to your porn site! It's cutting out a cup of coffee once a day per week a month! Its less than a large popcorn at the movies! Hell, its less than a movie ticket.

Its not hard people. I'm laid off from work and am able to give and help keep the servers alive and kicking. Even one time donations are sweet. Can't do monthly but have $40 you can give now? Great!

We need your help folks. Here's the low down and dirty...we have almost as many NON members donating as we do members. That does NOT speak well of the clan. So please, help out and pitch in!




Special thanks to all donors!

Donation link: http://fearless-assassins.com/donate/

This time we have purchased new add-ons for forum so that it auto tracks and displays the top donors instead of us me doing all manual work. It's going to display top and latest donors and you will also have option to donate anonymously like many had requested before.
Comments: 31 :: View Comments
Posted By:
von Rantala
Dec 05 2016 07:19 AM
It's Most Wonderful time of the year.Get ready to sings Christmas carols and eat alot of candy. Fearless Assassins brings to you yet another Holiday Special Gameday... Get ready to have some awesome kills on some awesome Christmas maps and Gameday Wars and win Gameday awards ..

Event: =F|A= Winter Is Coming?!
Date: Saturday 17th-Sunday to 18th of December
Time: noon to 7AM london time (convert your timezone) http://www.thetimezoneconverter.com/
Server Name: Fun1
Server IP: fun1.clan-fa.com
Details: Panzerwar, sniperwar, riflewar, speed and gravity adjustment and much more

Teamspeak server IP: ts.clan-fa.com:4666

The award winners will be chosen randomly between the players at random time during the event.

___________


- Battle Ranch: Pigs vs Plants :
http://store.steampowered.com/app/340070/

- Fingered :
http://store.steampowered.com/app/384360/

- Corgi Warlocks :
http://store.steampowered.com/app/414920/

- Tracks of Triumph: Summertime :
http://store.steampowered.com/app/528210/

____________

To help us choose randomly the winners between F|A members and regulars:
http://www.dcode.fr/random-selection
We can select and then input the slots of the players who are playing, and then let the prgm choose in impartial way the winner.

Your Hosts : All the event staff and of course staff+


Comments: 49 :: View Comments
Homepage