Welcome to Fearless Assassins Gaming Community
We are glad you decided to stop by our website and servers. At =F|A= we strive to bring you the best gaming experience possible. With helpful admins, custom maps and good server regulars your gaming experience should be grand! We love to have fun by playing online games especially Enemy Territory, COD4, COD:MW3, BF3, Team Fortress, Minecraft, etc and if you like to do same then join us! Here, you can make worldwide friends while enjoying the game.
Posted By:
SiLv3rfang
Mar 25 2015 08:23 AM
Woo so here we have it, our first game night for our CS:GO server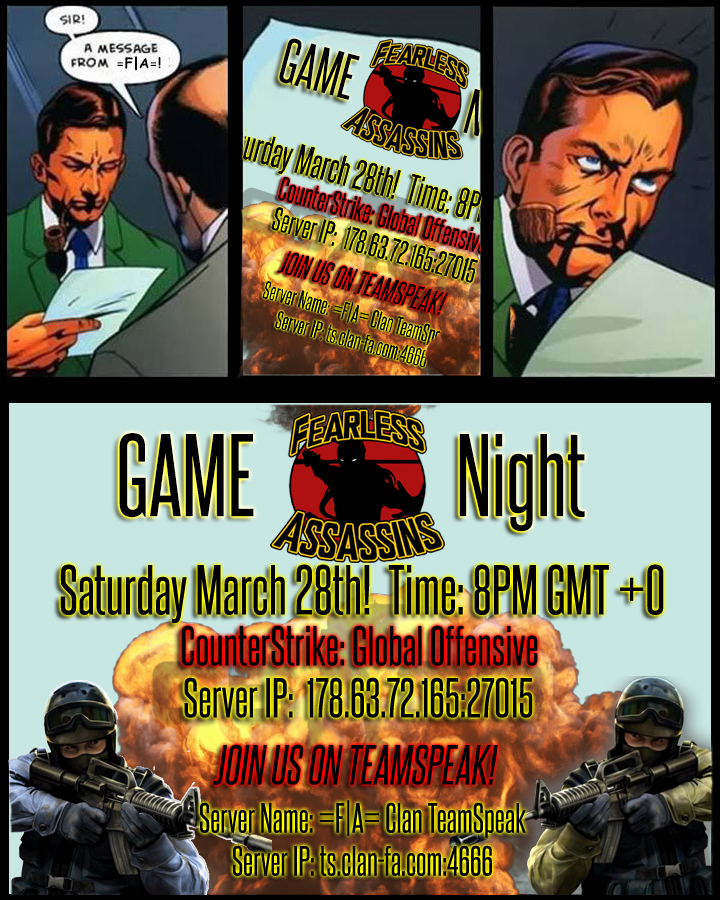 First of all sorry for the short notice, it will be on the 28th March... Yes that is this coming Saturday, at 8pm GMT it will start at and carry on throughout the night. It will be the normal bomb gamemode.
Date: 28th March
Time: 8pm GMT+0
Server IP: 178.63.72.165:27015
Also join us on Teamspeak:
Server Name: =F|A= Clan Teamspeak
Server IP: ts.clan-fa.com:4666
So come and join us... and this is just a taster.

Special Thanks to Sid for his awesome poster for this game night with such short notice to make it.

See you then

$iLv3rfang.
Comments: 38 :: View Comments
Posted By:
KILLERGUN
Feb 27 2015 01:59 AM
Hey Everyone,
Please join me in congratulating and welcoming our new promotions:
Leaders:
Heretic
Spanky
Alex
Co-Leader:
Chameleon
Staff:
A_Snake
Recruiting Team:
Diggity
CruelKind
LA_Kings_Fan
Gun
Krayzie
They have been doing a great job as a part of the community and we hope that they take it to the next level as members with higher responsibility. I hope everyone would give them the kind of support and love we have been getting till now.

Have a great weekend!
Comments: 126 :: View Comments
Posted By:
daredevil
Feb 11 2015 08:39 PM
I have updated TS3 server to latest version. If any of you notice any issue please let me know.
I appreciate COD4 peeps using our TS3 but it would be nice if ET admins could get on TS3 as well. It would be much easier to know each another on TS3, rather then typing long messages in game. Well we all are from different countries and race, so please don't worry about your accent.
It doesn't matter from which country you are or how much old are you or if you are he/she/shemale, just get the mic and get on TS3.
PS If I ever get recordings of anyone making fun of other members because of accent or harassing others, you will be muted, kicked or banned.
Enjoy!
Comments: 49 :: View Comments
Posted By:
Dougl@s
Jan 29 2015 07:32 AM
Valentine After Party

Yes, yes, yes.
Ladies and gentlemen, we can finally announce the next Gameday! After almost two months of diet who can deny our need for another party?
The event staff is happy to announce the =F|A= Valentine After Party.
Event: =F|A= Valentine After Party
Wars: panzerwar, sniperwar and of course normal fights. Crazygravity available.
Date: 21-22nd February 2015
Time: 12.00 to at least 7.00 (12PM-7AM) London time zone (GMT +0)
Server Name: F|A #2 XPSAVE FOREVER
Server IP: jay2.clan-fa.com

Teamspeak:
Server Name: =F|A= Clan TeamSpeak
Server IP: ts.clan-fa.com:4666

In the name of love, join us in blowing tanks, popping heads and knifing noobs.
Because Cupido also wields a bow.

Your Cupido's
Kat0n
Jhonny/Shinobi
D..X
RedBaird
Platonic War
Von Rantala
Xernicus
Reverze
DJ
Dougl@s
D!rk
L3fty
Masa_1964

Supervisors
Maximo Decimo
AnniB@l
Nani
Tipsy



Comments: 120 :: View Comments
Homepage