=F|A=September Surrender
Ba de ya - say do you remember
Ba de ya - dancing in september

No, luckily, the event staff is not announcing an exclusive Earth, Wind and Fire show for all FA members and VIPs.
We are announcing the next grand gameday and we call all ET players to make it a show to remember!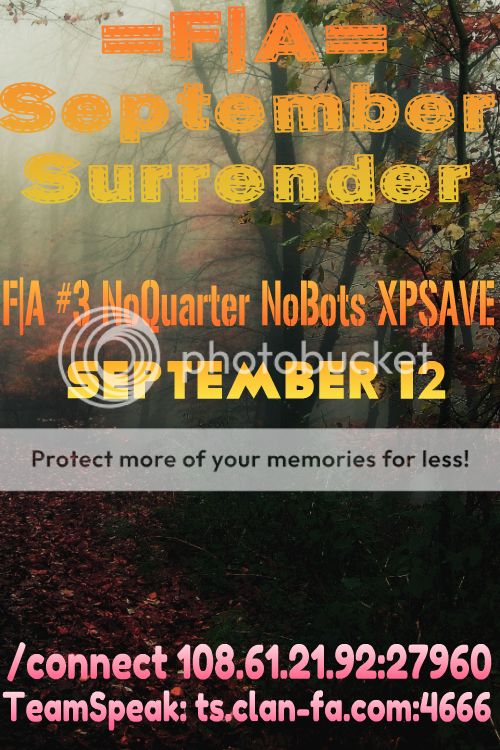 Event: =F|A= September Surrender
Date and time: September 12th, noon-7am BST (converter)
Server Name: F|A #3 NoQuarter NoBots XPSAVE
Server IP: nq3.clan-fa.com
Teamspeak IP: ts.clan-fa.com:4666
New starting with this Gameday: you can win unique awards, designed for you by Mr. Karizmatic.
* Gameday Junkie (fun gameday, most hours of actual gameplay proven by trackbase) :
Required: screenshot of trackbase showing your activity during the Gameday.
Required: screenshots of your visit to every game.
When we run wars on gamedays, you will be able to win following awards:
Be there, help us make it an unforgettable day!
Your September Sunnydays:
Special thanks to Audrey for making the poster and to Mr. Karizmatic for making awards and video!
Edited by von Rantala, 12 September 2015 - 06:53 AM.
Gameday trophy topic link added