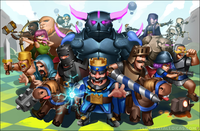 About This Club
Club of Clash of Royal Mobile Gamers
---
What's new in this club

Was able to recover my account on my new phone

We'll see on Tuesday. I'll keep you guys updated

nope, google account save your lvl

maybe..unless I need to restart

see yaaa on friday for CR clan war

Yesterday my phone's screen broke. Ordered a new phone, won't have it till Tuesday. Until then I won't be able to play Clash. However the problem I still have is that I am not sure if I'll be able to transfer my account, will have to look it up on google and try on Tuesday.

Jiren

joined the club

Finest

joined the club

To be honest, some people do bite.

Sonofdoc

joined the club

bump we need some more guys for our clan fights. so if you are interested you can join our group, we don't bite, thanks DJ

so, we try to make every friday a clan war 10 vs 10, but we need a little bit help. we need 2-3 more active players for the clan war. if you want a little bit fun, you can join our F|A group (no requirements, only some trophies and fun to play) you want join our group ??? ----> klick here for the info to join our gruop any question ??? our Discord channel - http://link.fearless-assassins.com/COR_DISCORD or contact me via PM for more information thanks leader DJ

3

goose64

joined the club

Mordecai2300 as usual. I dont play a lot this game, but when Im bored and no other option left to have fun I just take out my phone xD

Mordecai

joined the club

Flible

joined the club

Have you tried recruiting on here? http://clashroyale.wikia.com/wiki/Board:Clan_Recruitment?useskin=oasis

Yep, under the name theOrange Since a long time I am not active in Cod4, used to play Minecraft on FA servers but haven't done that in a long time either. At the moment I'm having computer problems, so can't play computer games anyways. But I've kept up with FA through forums. I played a bit of Clash of Clans with FA but got bored of that game and switch to Clash Royale. When I saw that you guys had started a Clan on there, I joined it

Started to play again after long time of inactivity. Night Hunter dah! XD

Night Hunter

joined the club

In game name - hellreturn @ajnl - U still play this one? If yes under what name? Good to see u around bud!

Smileyyy

joined the club

I upvoted on Reddit. (i'm TheOrange on clash royal, just fyi). Seems like we have a problem with getting enough active people though...

ajnl

joined the club

Please see our clan info below - We are actively inviting new members for our clan wars and fun 2 vs 2 game play. Search for =F|A= in clan search and send an invite. If you need help, please feel free to ask for it. Our Discord channel - http://link.fearless-assassins.com/COR_DISCORD

Guys, As all of you playing Clash Royale will be aware that clan wars has come to Clash Royale. Please see the link to know more The wars are pretty fun and so far our clan has been doing not bad. However, we need to improved and we need to be even more active than before to ensure that we have success with the wars. To increase the number of active players, I have gone ahead and created a recruitment post on Reddit here: https://www.reddit.com/r/RoyaleRecruit/. You can find the specific post here: It would be great if anyone from the clan, who is active on Reddit, could go ahead and upvote the above post. That will improve of chances of getting active players into the clan and possibly get new recruits on our forums. Thanks for all your ongoing support. Regards, Killergun

KILLERGUN

joined the club

Mr.Karizmatic

joined the club

DJ aka GDR DJ

joined the club

daredevil

joined the club

I'm guessing you're 3500-4200 with this?

Golem- level 6 baby dragon- level 6 Arrow- level 11 Log- Level 2 Witch of the night- level 2 woodcutter- level 2 Pump- Level 8 Mega gargoyle- level 9

Only the stupid fall for the valk+hog, but aye. I sometimes use it when I know the opponent only has valkyrie-sensitive things to counter with. Now around 4k trophies, same deck as always, all but tombstone is level 9. I'm becoming more proficient with the standard ew/hog/barrel GC deck though, so maybe I'll try some GC's next weekend for the clan chest.