No, not the case at all. But if you are not interested in someone that way, and have not been for a long time (in my case 4-5 years) Then what do you do? Tell them your not interested straight up? Or date them to make them happy, end up breaking their heart because your really not interested in them (in that way)
Thats shallow. dating someone when you have no feelings just because you are either to scared to tell them the truth, just want a girlfriend/boyfriend etc.

Obviously I had expected that response (the only correct one ofcourse

). If you have thought about it and definitely have said no, then of course you did the right thing. However, if you have never looked at him as possible boyfriend candidate doesn't mean that is it entirely not an option. I think too many girls have absolutely no idea that they've friendzoned anyone, never thought about it. On the other hand, that entire 'what if' that's questioned in this topic works the other way round. If you're asked on a date, at least think about it.
Last time I asked someone out, I had the feeling that I was friendzoned as well. But at least she had at least the guts to consider 'what if'. Took some time, but I'm pretty sure I'm not friendzoned anymore

P.S I dont believe in "love at first sight" Love is not that simple.

This came to my mind: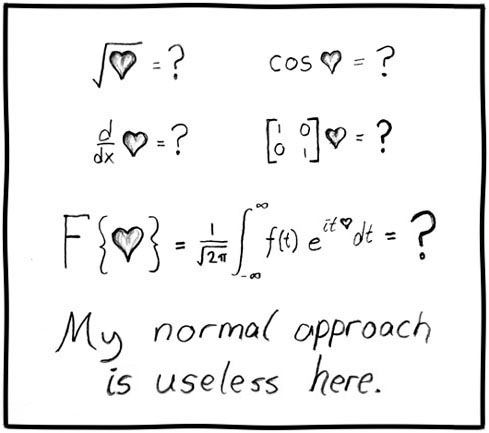 Even the identity matrix doesn't work normally.
(xkcd)