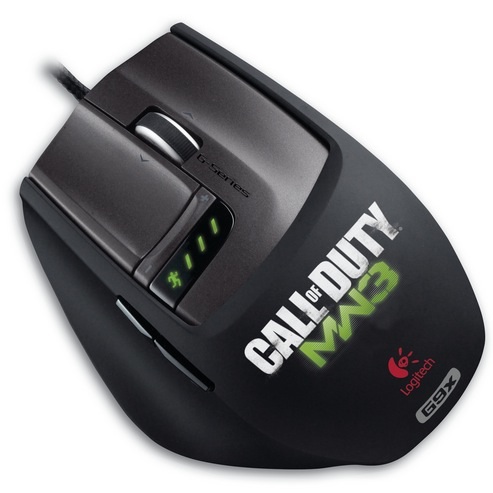 So as you can see, I purchased the CoD:MW3 branded version of the G9x because it's half the price of the standard one - wouldn't you?
Purchased for £30 from Ebuyer - can be bought cheaper in the US.
What's in the box?
1x Logitech G9x CoD:MW3 branded gaming mouse
1x Spare 'rugged' feel CoD:MW3 branded mouse cover
1x Metal Logitech weights tin, holding varying weights for the mouse.
1x Soft textile Logitech CoD:MW3 branded mousepad (no mousepad included with the standard G9x)
The first thing I noticed with this mouse was the beautiful shape. It's large, but not too large, and pretty much fits my hand perfectly. Which led me to admire the stunning soft resinous finish of the mouse cover - not so much of a fan of the other one (it comes with two) though, it feels cheap and a bit 'rough around the edges'.
The button placement on this mouse is to die for! For years I searched for gaming mice which suited my preferred layout and positioning, and finally, I found it! Not only are the buttons in perfect placement but the action of the buttons is soft and feel of a high quality when used.
With up to 5700 DPI and 1000 tracking reports per second(!), this mouse is a very precise and - if I'm honest - slightly too good for someone like myself. And despite trying and trying, I have not managed to create ANY noticable negative acceleration.
The mouse has memory enough to store 5 on-board profiles which do NOT require the SetPoint software to be installed - handy for Mac / Linux users! These profiles do however need to be set up using SetPoint on a windows computer initially - but I'm sure every Mac or Linux user has that windows-using friend that they've not managed to convert yet - finally, a use for Windows eh!? Hopefully your friend wont be too smug.
However, even if you dont have a Windows friend, you can still make use of the manual DPI switch to increase or decrease your effective DPI.
With SetPoint however, you can make use of automatic application-based profile switching - very handy for gamers - for example, I have a Standard profile, a CoD4 profile, and a W:ET profile to cater to the different play styles of the two games, and to tone down the DPI once I'm back doing standard computer usage. This can be temperamental however, due to some sort of bug in the SetPoint software - but this is no fault of the mouse.
You can also customise the X and Y axis sensitivity.. Useful if you know what you're doing - lowering the Y axis sensitivity means up/down motions will be slower, meaning you're less likely to stray from the 'headshot' zone.
The colour of the LED is also completely customisable per-profile, which is handy for knowing which profile you're on, and of course its just nice to have a change sometimes.


One thing I find EXTREMELY useful as a programmer, is the ability to press the button on the base of the mouse which disables the restrictor on the mouse wheel - giving you 'free scrolling'. This is seriously handy when you want to scroll through lots of text (ie code), and also becomes quite nice for using on webpages too eventually.
Ok, like with all products there's always a downside - unfortunately for this mouse, the downside is in my opinion quite a bad one for a gaming mouse... The USB lead. Sounds like no big deal right? Well the USB lead on this mouse has a threaded textile coating which feels more like horrible impressed plastic if I'm honest, and it has a horrible physical memory to it. I've used this mouse now for about 6 months and yet it still has the memory of when the wire was coiled up in the packaging.. The lead literally has 90° kinks in it as if it's just been taken out of the box.. Which matters when it gets snagged on the edge of your desk mid-battle and costs you your kill spree!
Don't let me scare you though - I would still buy this mouse over and over again. I would simply make more of an effort to straighten out all the kinks in the lead before use.
TL/DR:
Pro's:
- Shape
- Size
- Custom Weights
- Button Placement
- High DPI
- High Tracking Rate
- No Negative Accel.
- Customisable X and Y axis
- On-board profiles
- Manual DPI Switch
- Side Buttons
- Free-scroll / Fixed Scroll wheel changer
- Free Mousepad (with CoD:MW3 branded mouse only)
- Spare cover
Con's:
- Cheap, nasty USB lead with ultra long physical memory
- Application-based profile switching can be temperamental (software issue, not the mouse really)
1