A very simple program that allows you to switch between the 4 patches of ET instantly without any hassle, especially considering the difficulties of switching to the 2.6b patch. You can even configure it to switch patch, start ET, and instantly connect to your favorite servers!
--------------------------------------
Step 1: Go to the following URL and download ET Starter Pro. You can either save it or just open the .zip file.
Click Me
Step 2: Once you have that .zip file opened double click on ETStarterPro.msi
Step 3: Install the Program. It will automatically create a shortcut on your desktop
Do not delete it! You can move it around, but don't delete it! Otherwise you need to reinstall the program!...Or restore the Icon if your recycle bin isn't emptied.
Medic noted(and now after a little snooping around I found it myself) That ET Starter Pro does have a shortcut in the Start Menu. I never noticed it because my shortcut to ETStarterPro is located in a folder on my desktop that contains patches for my others games like COD4
Step 4: Now that you have your program installed, it's time to learn that basic functions you'll need! The first thing that will pop-up when you start the program is this: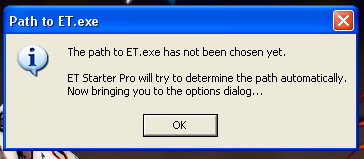 When you click OK it should have automatically found the pathway. Sometimes it gets a little buggy and doesn't. The safest bet is to manually do this yourself anyway.
Go to "My Computer" -> Select your C: Drive or wherever your program files or ET are stored. Find the file Wolfenstein - Enemy Territory and select ET.exe.
EXTRA:
Where it says "Path to Custom Application to Start with ET" You can go to the apps folder that pops up and select etmin.exe. Personally I don't use this, but when you're playing ET it should minimize the program somehow(lol)
Step 5: Finally when you're done with that, the following screen should be this: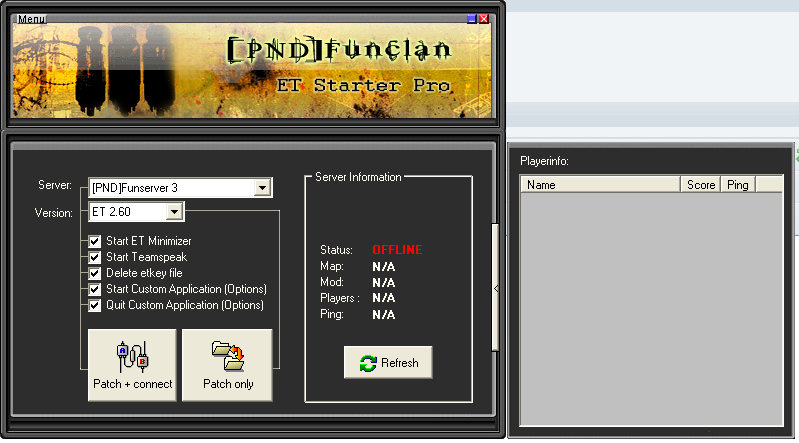 For the check boxes I have everything
UNCHECKED
except for "Start ET Minimizer, I'd recommend the same because it works for me.
Step 6: Everything should make sense, Server selects where you want to play, Version selects your patch, Patch + Connect switches the patch and connects you to the server, Patch + Start just starts ET for you after alternating the patch. Now I can show you how to add custom servers!
Step 7: Follow the picture: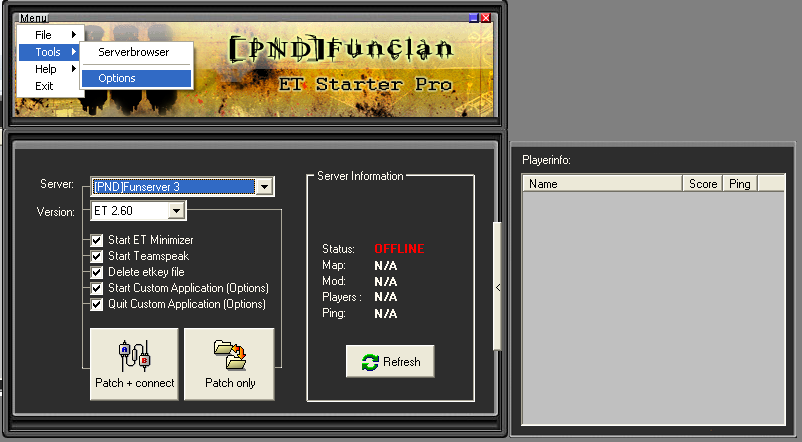 And you'll end up with a screen similar to when you selected you ET.exe pathway. Click the servers tab at the top.
Step 8: You can go ahead and select those Fun Servers and delete them as they're gone anyway.
Go to Add Server and you'll get this:
As an example we'll add the F|A HARDCORE XPS server.
Step 9: In Name you write the name of the server or whatever you feel like calling it(doesn't matter I believe). Now to get your server IP + the port number is very simple. There's 4 ways of doing this:
1. Go to fearless-assassins.com, then go to Server Info -> W:ET, then click on the server you want, which in our case is ETPub #2. Right there in the information it will you give the IP Address and the port number which together will look like this:
216.155.146.19:27960 -> Copy and Paste into the field.
2. Go to your Xfire application and look at your servers list. If you play on the server with xfire on, then the server should be there. Copy the server IP and you're done!
3. Manually get the server IP through starting up Wolfenstein ET and connecting to the server
4. Go back to your Server list in the options and then manually look for the server by clicking Serverbrowser</div>
After you have your IP + Port in, you can ignore the password section since there is no password for the example server. Now You select what version the server is on, which in this case it can be accessed through 2.55 or 2.6 so select either of those. Press OK and you're done!
Personally I find going through Xfire to be the easiest because I have most of the servers as my favorites there already.
Now that you have it all set up, just select the server you want to join(you can even see who's online!) and click Patch + Connect and you're in

For some people is very handy(like me xD) And for some it isn't.
Ex: I play on .55, .6 and TJ on .6b....I need it