Investigator is a platform independent tool which provides the ability to search for Name, MAC, GUID, IP and Level in Jaymod user.db files. It is able to read and handle several user.db files at once, which could either be added through the intuitive user interface or a file list for your comfort. Additionally, Investigator allows you to export your results into a text file for further use. It also allows wildcard IP searches, displays ban and mute information for the specific users in addition to the plain user information and could easily handle more than 100,000 entries.
Workflow
Load user.db files
Either click the + button in the lower left corner of the GUI or hit Ctrl+A to add a user.db file to the file list.
Once you hit Open, it will appear in the list and you will be able to remove it by selecting it and clicking the - button in the lower left corner of the GUI or hitting Ctrl+R.
Add as many files as needed to the file list and click on Load (or Ctrl+L) to load them into Investigator. It will now display the amount of read entries.
Hint: If you use Investigator on a regular basis, you might want to create a filelist in order to save some time. To load a filelist, hit Ctrl+F and select the respective text file. Find the structure of the text file below.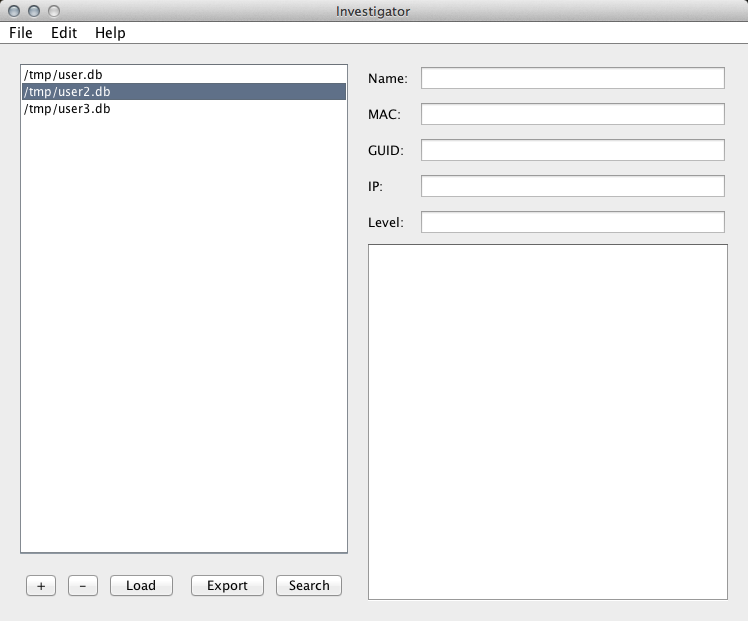 Search entries
To search through loaded entries, enter your search criteria in the respective field and click on Search or hit Enter. You may use wildcard IPs and case-insensitive expressions. It will now display the results in the box on the right side of the GUI.
Hint: You could export the the results to a text file for further use by clicking the Export button or hitting Ctrl+E.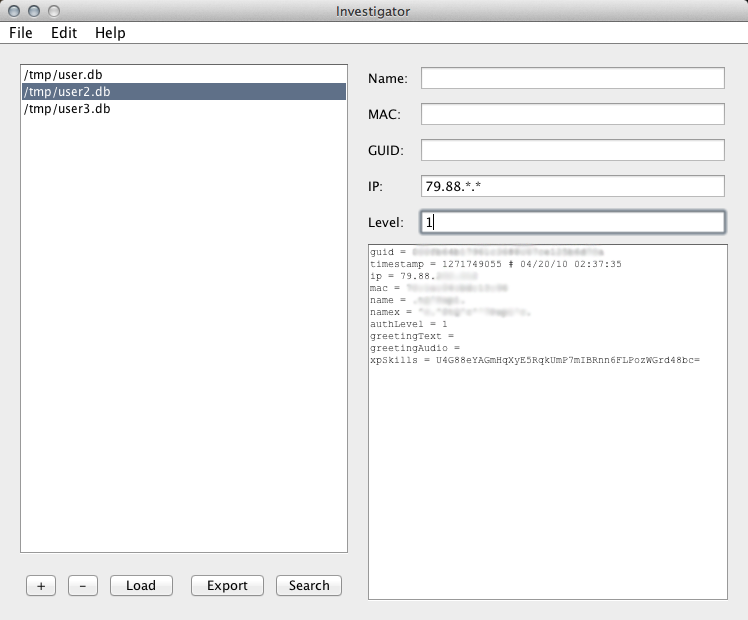 Sample filelist
/path/to/the/first/user.db
/path/to/the/second/user.db
/path/to/the/third/user.db
/path/to/the/fourth/user.db
Download
You could download Investigator in our
Downloads
section or receive the latest version directly from the
developer
. To find out about recent changes, check out the
Changelog
.