Installing Ubuntu
This section will show you how to download and install Ubuntu and give you a brief introduction to that popular Operating System. This tutorial deals with Ubuntu 10.04 Lucid Lynx but will most likely work with every following version as well. It will guide you through the intuitive installation using an ordinary USB flash disk with at least 1GB of disk space. There's also a way to install it without using a CD/DVD or a USB flash disk, but this way you'll produce a universal Linux flash disk which could be used to install Ubuntu on any PC or as Recovery-CD to retrieve data from a broken system.
Downloading Ubuntu
The first thing you obviously need to do to install Ubuntu on your system is downloading an installation image of it. Therefore, head over to
Ubuntu.com
and download the 32-bit version of Ubuntu.
Hint:
The main Ubuntu mirrors are usually pretty busy.
Sweden's mirror
is currently one of the fastest in Europe.
Creating a Ubuntu USB flash drive
Attach a regular USB flash drive with at least 1GB of disk space to your PC. Since the data on the flash drive will be erased during that step, I'd recommend backing up your data, using an old flash drive or buy a new one. (They are only about 10$ and you could use it for whatever you want afterwards.)
Now open a command line with administrative rights by opening your Start menu, typing in
cmd
and right click the first entry to
Run as administrator
. Enter the following commands. (Note that X equals the Disk # from list disk.)
diskpart
list disk
select disk X
clean
create partition primary
format fs=fat32 quick
assign
Having your bootable flash drive ready, extract the Ubuntu image's content to your flash drive using
WinRar
or any other program which is able to extract .iso files.
Hint:
For more detailed instructions on how to create a bootable flash drive, have a look at
this
tutorial.
Image:
http://fearless-assa...=images&img=610
Installing Ubuntu
Reboot your PC and make sure you selected to boot from a USB flash drive. (The key to select this option is mostly F12 or ESC, please refer to your Mainboard's documentation for further information on this.) As soon as the purple screen with the accessibility icon on the bottom appears, hit the Enter key and select the language of your choice. Navigate to
Install Ubuntu
to start the installation routine.
The first three steps are self-explanatory and will guide you through the basic settings. When it comes to disk space preparation, select
Install them side by side, choosing between them each startup
and continue. Enter your login credentials, decide whether to import your documents from your Windows partition and start the installation process. This may take a while, depending on your computer's performance.
Reboot your PC and remove the USB flash disk when asked to. You will be presented with Linux' bootloader, GRUB. As you might have already expected, you could either boot into your new Ubuntu installation by choosing
Ubuntu, with Linux 2.6.32-21-generic
(Version number depending on the installed kernel.) or into your old Windows by choosing
Windows 7 (loader) (on /dev/sda1)
.
Image: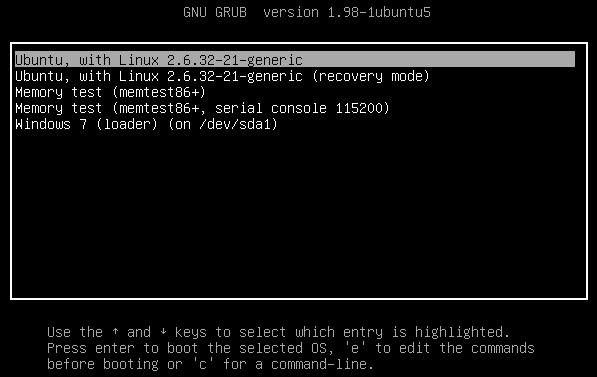 Configuring Ubuntu
To prevent any security leaks, we are going to change the password of Ubuntu's Administrator account, called
root
. To do so, open a new Terminal window by navigating to
Applications – Accessories – Terminal
. Type in
sudo passwd
, enter your user's password, enter a new password for
root
and confirm it. I recommend updating the system regularly, which could be either done graphically or via Terminal. Since I prefer the latter way, run the following command to update the application list, update the applications themselves and upgrade the system's core, called
kernel
:
sudo apt-get update && sudo apt-get upgrade && sudo apt-get dist-upgrade
To install drivers needed to run Enemy Territory smoothly, go to
System – Administration – Hardware Drivers
, let it update it's lists and follow the on-screen instructions to installed the drivers.
Installing Enemy Territory
This section will show you how to download and install the game itself, updating PunkBuster, fixing potential sound problems and finally how to uninstall it.
Note: To install Enemy Territory on a 64-bit system, you need to have ia32-libs installed. Feel free to contact me for further details.
Downloading and Installing Enemy Territory
The Linux version of Enemy Territory consists of the the game in version 2.60 of about 260MB and a linux update of about 8MB. To download both from a fast mirror, run the following commands in Ubuntu's Terminal application:
cd Desktop/
wget http://www.dev9.org/...ux-2.60.x86.run
wget http://www.dev9.org/...-update.x86.run
Following the usual process, we install the game first by running
sudo sh et-linux-2.60.x86.run
. If you didn't run into any problems yet, you will be prompted with a semi-graphical installation routine. Accept the license agreements, leave the installation path at it's default value
/usr/local/games/enemy-territory
, the symlink path at
/usr/local/bin
and leave both options,
Enemy Territory
and
PunkBuster client/server files
, checked to make sure it installs PunkBuster as well. Accept PunkBuster's license agreement and install the startup menu entries. To prevent security problems, please do not start the game from the installer's prompt because it will run it as
root
, being able to make changes on your system without notifying you.
Repeat the same procedure to install the patch: Execute it with
sudo sh et-linux-2.60-update.x86.run
, accept the license agreements, leave the paths on their default values and you're done.
Hint:
To clean up the Terminal window, just type in
clear
and hit the Enter key.
Image: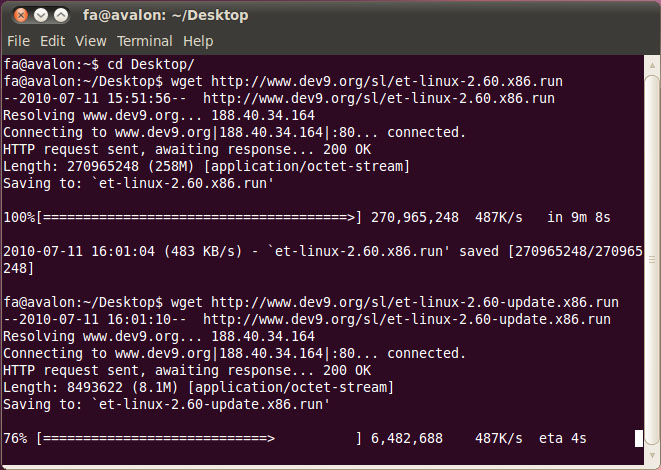 Updating PunkBuster
It's time to get an up-to-date version of PunkBuster to avoid getting banned from your favorite servers. To download the updates, visit
PunkBuster's pbsetup.run website
, pass the Captcha and download the file. Since the file will be downloaded to your user account's Downloads folder, move it to the desktop for your comfort. You could easily access the Downloads folder by navigating to
Places – Downloads
. Extract the ZIP-File by right clicking on it and selecting
Extract Here
. Run the following commands from your Terminal window to update PunkBuster:
chmod +x pbsetup.run
./pbsetup.run --add-game=et
sudo ./pbsetup.run -u
Image: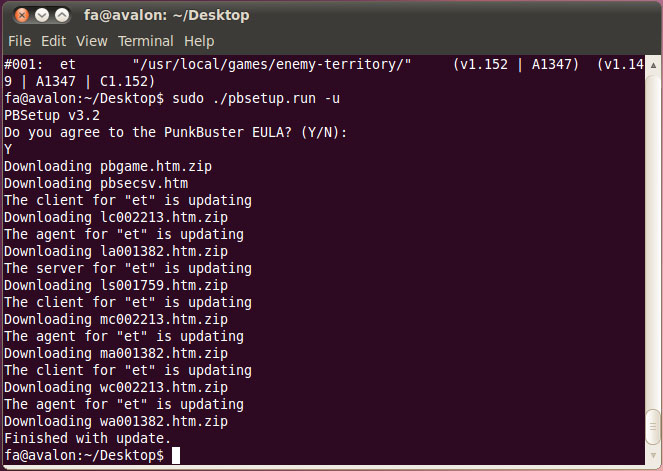 Fixing Downloads and Sound
Run the game once to create the required folder structure by navigating to
Applications - Other - enemy-territory
. Execute
sudo chown -R fa:fa ~/.etwolf/
(where
fa:fa
equals your user account) to be able to download any custom soundpacks or maps later.
To be able to hear your enemy in-game we need to fix potential sound problems by running
sudo apt-get install esound
. If you've still got sound problems, run
sudo apt-get install vim
to install a great text editor, executing
sudo vim /etc/init.d/etSoundFix.sh
, pressing the
i
key to enter vim's
Insert mode
, entering
echo "et.x86 0 0 direct" > /proc/asound/card0/pcm0p/oss
and pressing
ESC
followed by
:wq
to save the file and leave vim. The only thing left to do is setting the correct permissions by running
sudo chmod +x /etc/init.d/etSoundFix.sh
and adding it to our startup daemon by executing
sudo update-rc.d etSoundFix.sh defaults
. (Don't worry about the warnings at this point, it just grumbling that we didn't include any LSB information to our file.)
Uninstalling Enemy Territory
Unfortunately there is no uninstallation routine included in Enemy Territory's installer, so you'll have to uninstall it manually by doing:
sudo rm -rf /usr/local/games/enemy-territory && sudo rm -rf /usr/local/bin/et && rm -rf ~/.etwolf/