Hello All! So it appears that there is no stand alone tutorial on how to add an image to your signature, primarily those that are created by other members for you. This should make it easier for you to upload the signatures to your profile.
*

For you signature creators please upload your signatures to photo hosting sites (i.e. Photobucket and Flickr). This makes it easier for the receiver to upload and view.
Firstly, if your signature is complete and you want to upload it you need to go to your profile and click on edit my profile.
Your window should then look like the below. Obviously with your info not mine.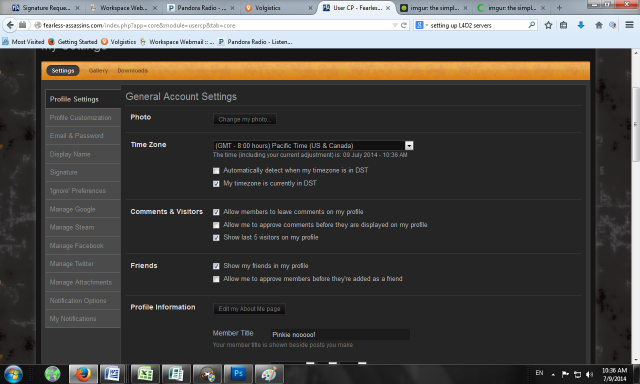 Scroll down the tabs on the left side of the screen and there should be one for signatures. Keep in mind that you cannot have a signature till you reach a minimum post count. If you don't see the signature tab then you have not reached the minimum post and need to use the forums more. The more regular you are on the forums the more perks you receive like the ability to upload larger images and more things.
If you buy VIP status you get these things automatically.

Click on the signature tab and it will pull open the window below. Note there are restrictions and if your image is larger then 600x150 pixels it will not attach right or at all.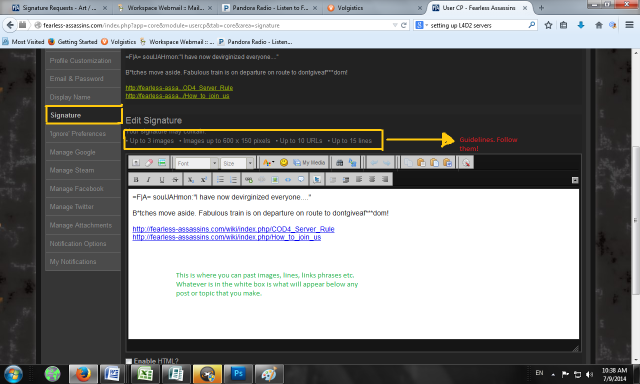 Next you will want to open up a new tab in your browser or click the link provided by the signature creator. This should take you to the photo hosting site. If not, save the image and upload to your Photobucket or Flickr. They are both free and help a lot with image management and sharing for here or elsewhere. Copy the IMG link and go back to the signature page.
Past the IMG link in the white box on the Signature page and save your changes. If you don't save and refresh, your image will not show up and you will have to start over. You may be prompted to sign in again.
After you have saved and signed back in, go to something you have posted on the forums. The image should be there in all its glory.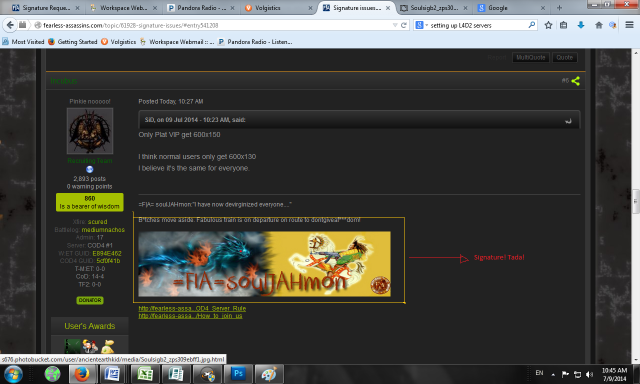 (Yes, I used SoulJAHmon's sig.)