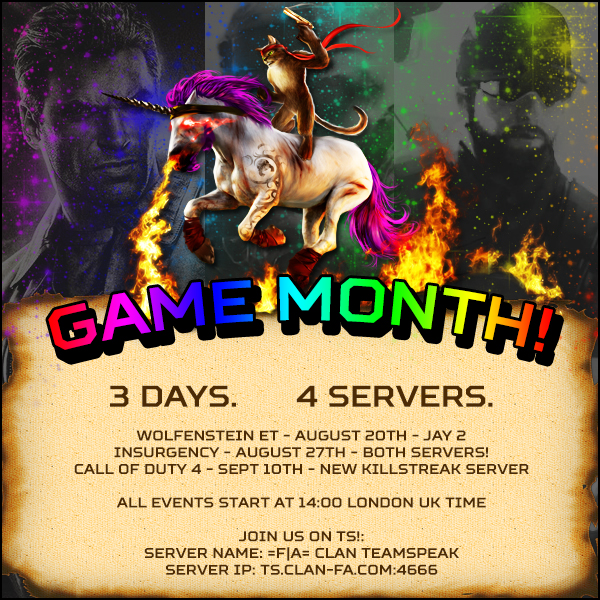 Ladies and gentlemen, boys and girls the time has come for the best and biggest party you have ever witnessed as Fearless Assassins clan is hosting a Game Month featuring not one, not two, but three different gamedays. Yes you have heard that right, we will host in upcoming weeks Enemy territory, Call of Duty and Insurgency gamedays for you to enjoy and have fun in three different games, so even the most fancy gamers will come to their share of fun and enjoy at one of the three gamedays hosted by us. So lets kick it off and share some more details for each party we will hold, starting off with one of the most favorite game around here, our beloved Enemy Territory.
As mentioned above, first among our three gamedays we will start off with Enemy Territory hosted on our beloved F|A #2 XPSAVE FOREVER and this will be one of the biggest fun days ever to be known to gamers, so you better mark 20th August "occupied" so you won't have any disturbance from anyone and will be able to play all day long with the rest of folks out there! How better to spend your day than enjoying on our server, shooting that panzer half a cross the map only to get a multi kill or pretend to be a sniper pro and make opposite side wonder where on bloody earth have you hidden yourself while getting killing spree and the best thing is that everyone is able to join whether you are a professional ET player, a casual gamer who annoys others by killing them always or just a lover of this great game given to us who wishes to enjoy their free time among the rest of us, so make sure to bring your friends, bring your parents, heck you can even bring your dog and cat and make them have a showdown on the battlefield!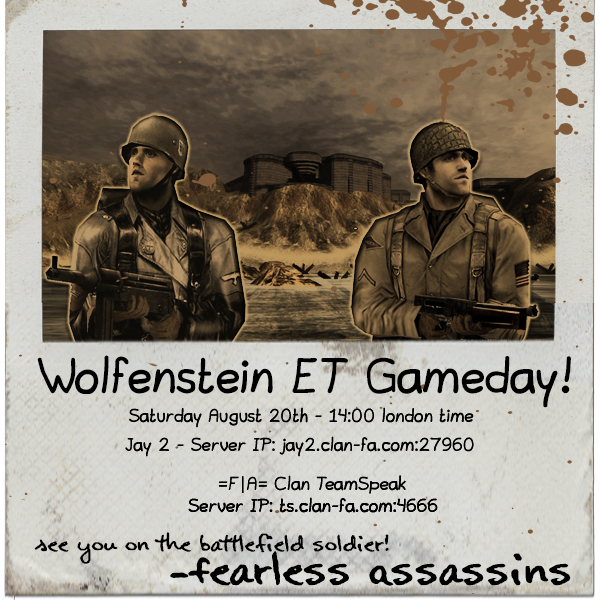 Event: =F|A= ET Gameday
Date: Saturday 20th August
Time: 14:00 London time (GMT +1) - Convert to your timezone here
Server Name: F|A #2 XPSAVE FOREVER
Server IP: jay2.clan-fa.com:27960 or by IP: 108.61.21.94:27960
=F|A= Teamspeak IP: ts.clan-fa.com:4666
Mods: Sniper and panzer war, on top of that we will spicy it up with your favorite setting, crazy gravity.

Second game that we will host is our new addition among the collection of games we are already supporting, so if you are in the looks for something new, something fresh, this is the chance for you to grab it with your both hands and take part of the gameday that will go down at the end of August. Explore the new maps, test your aiming ability with new fresh weapons and enjoy yourself as we will hold this gameday on both of our servers. Join us on this wonderful day to have fun and a great time, test yourself fighting like a security forces soldier, take down the insurgents and capture/destroy the objectives or fight like an insurgent holding/capturing objectives and SMASH the security forces to make them retreat from the city!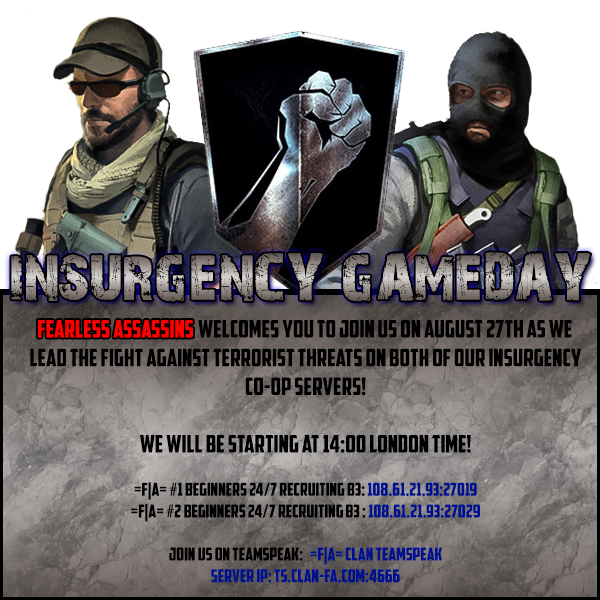 Event: =F|A= Insurgency Gameday
Date: Saturday 27th August
Time: From 14:00-22:00 London Time [GMT+1] - Convert to your timezone here
Servers IP: =F|A= #1 108.61.21.93:27019 and =F|A=#2 108.61.21.93:27029
=F|A= Teamspeak IP: ts.clan-fa.com.4666


If you feel that neither Enemy Territory or Insurgency are going to bring you fun and you feel that your rockstar moment comes when you hear the name Call of Duty 4, then look no more, as we will host this gameday as well, making unique experience for all those who are still loyal to the game and have a lot of passion among it to keep enjoying it on daily basis or just whenever your wife or girl give you some spare time. The gameday we will host will be on our new cracked server "NEW KILLSTREAK", as the name says new "killstreak" so we have included new rewards on game and we hope to see everyone there to join us on a funny and great day to play with friends, feel free to invite your buddies to come as everyone is welcome to join, from clan members to regular players.
We will also have a custom map rotation (maybe even with your favorite map in the list

)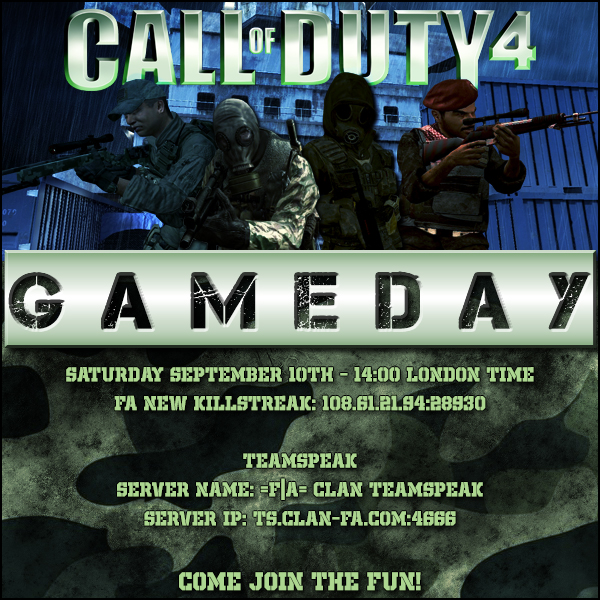 Event: =F|A= COD4 Gameday
Date: Saturday 10th September
Time: 14:00 London Time [GMT +1] - Convert to your timezone here
Server name: FA NEW KILLSTREAK
Server Ip: 108.61.21.94:28930
Teamspeak ip: ts.clan-fa.com:4666


So here we are beloved gamers, at the end of introducing our lovely game month to everyone, we presented details, time and place and now it's up to every single one of you to make difference and join event you feel will suit you best or even better, join all three of them and become an all star in every game we will host. Remember that gamedays are free to join for everyone, no restrictions, either be a casual gamer or some epic super pro, it won't matter, everyone is welcome to join. Bring your friends who would love to try new game out, tell your parents, maybe you make them join as well, maybe even ask your goldfish to join, the more the merrier, nonetheless make sure you use our teamspeak as that will bring extra fun to the gaming.

Thanks to everyone who will take part of each gameday and we will see you on the battlefield.

Special thanks to:
- SinfulRaevyn for making these lovely banners.
- Night Hunter for contributing with COD 4 and Insurgency
- von Rantala for being the big boss watching over everything
- And of course as well to everyone from FA clan who has contributed their efforts for this game month to happen
Edited by Kay, 09 September 2016 - 08:41 PM.
wrong IP for cod4