1.Lightning bolts appear above and around the Chaiten volcano as seen from Chana, some 30 kms (19 miles) north of the volcano, as it began its first eruption in thousands of years, in southern Chile May 2, 2008. Cases of electrical storms breaking out directly above erupting volcanoes are well documented, although scientists differ on what causes them. Picture taken May 2, 2008.
2.Kartoula, 14, a refugee from Sudan's western Darfur region, enters a distribution centre to receive monthly food rations at Djabal camp near Gos Beida in eastern Chad, June 5, 2008.
3.The Space Shuttle Discovery lifts off from launch pad 39-A at Kennedy Space Center on May 31, 2008 in Cape Canaveral, Florida, en route to the International Space Station on a construction mission
4.An aerial view of floods caused by Tropical Storm Hanna is seen in Gonaives, Haiti on September 3, 2008. Haiti's civil protection office said 37 of the 90 Hanna-related deaths had occurred in the port city of Gonaives.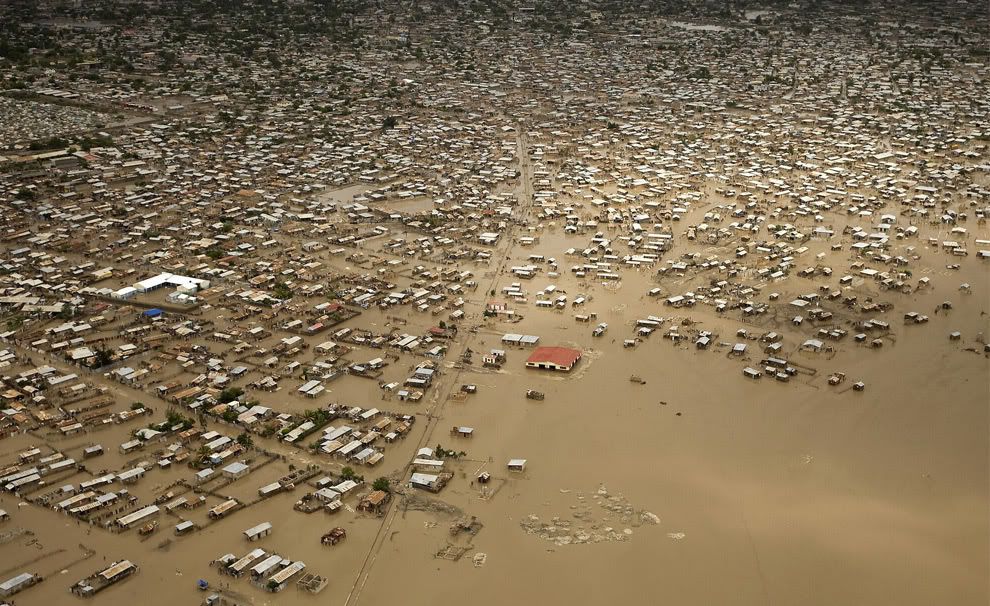 5.A U.S. Marine, from the 24th Marine Expeditionary Unit, has a close call after Taliban fighters opened fire near Garmser in Helmand Province of Afghanistan May 18, 2008. The Marine was not injured.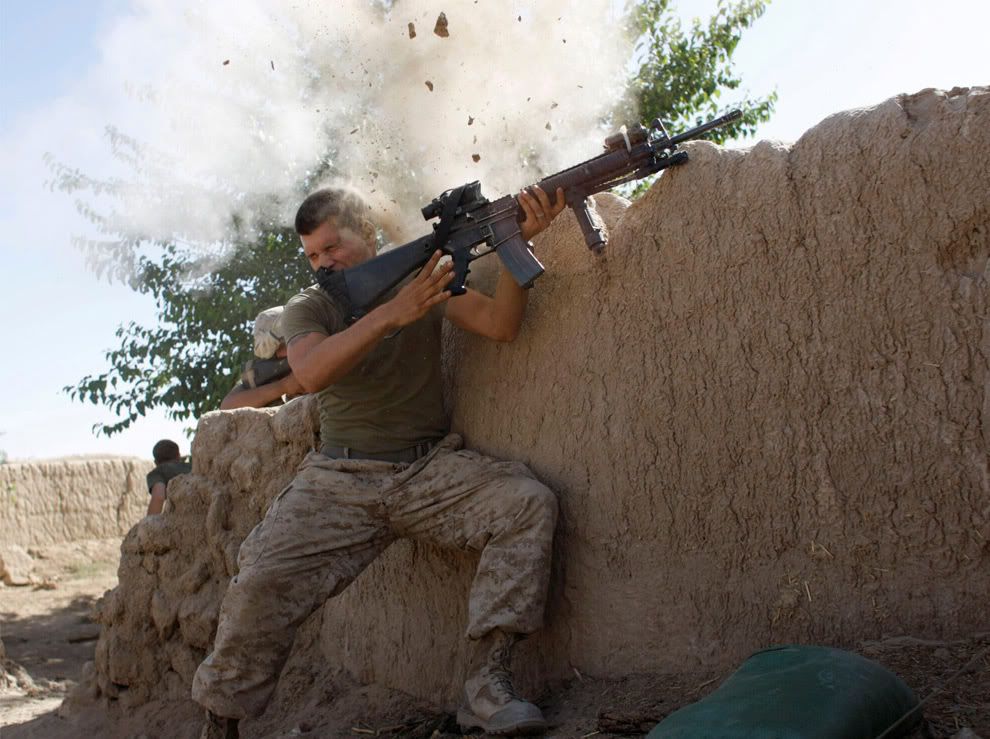 6.The hand of a dead body lies on the ground amongst the rubble of the earthquake ravaged town May 15, 2008 in Beichuan, Sichuan province, China.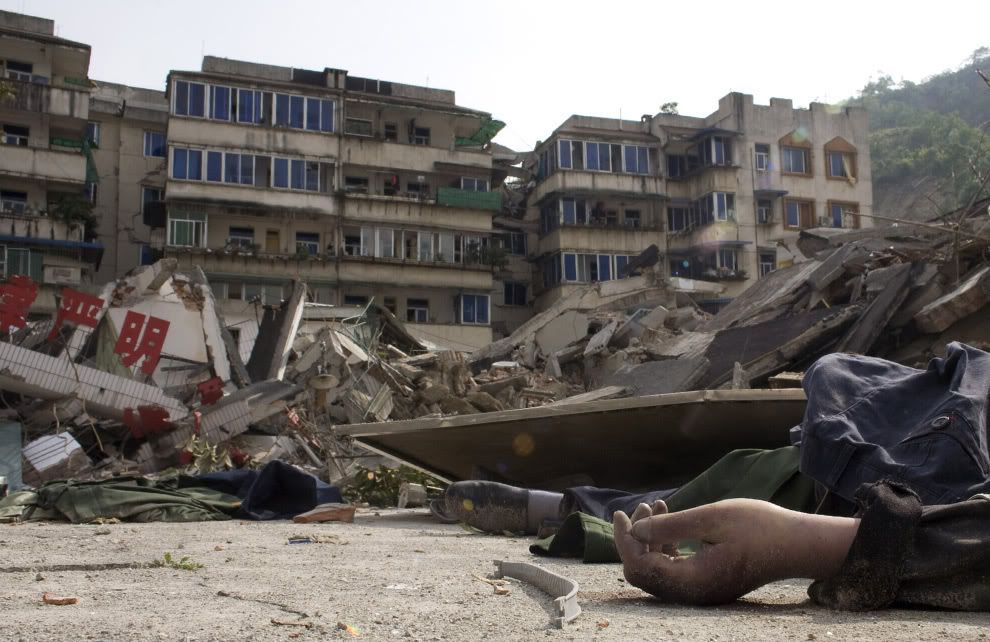 7.Italian soccer club AC Milan's newly signed player Ronaldinho of Brazil attends his presentation at San Siro Stadium in Milan, Italy on July 17, 2008.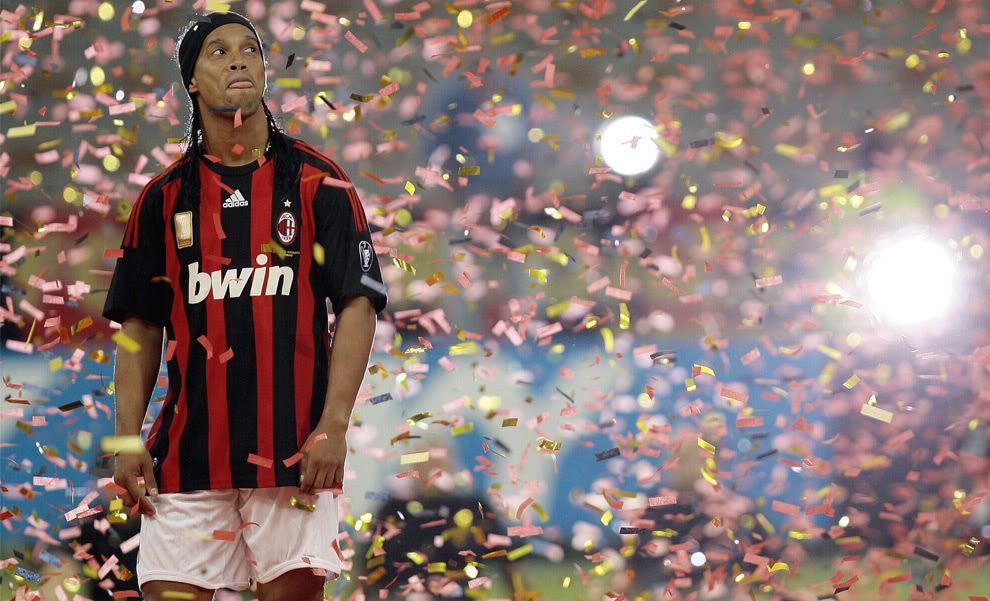 8.The right hand of a young visitor is silhouetted against a jellyfish exhibition hall at the Ocean Park aquarium-amusement complex in Hong Kong on January 20, 2008.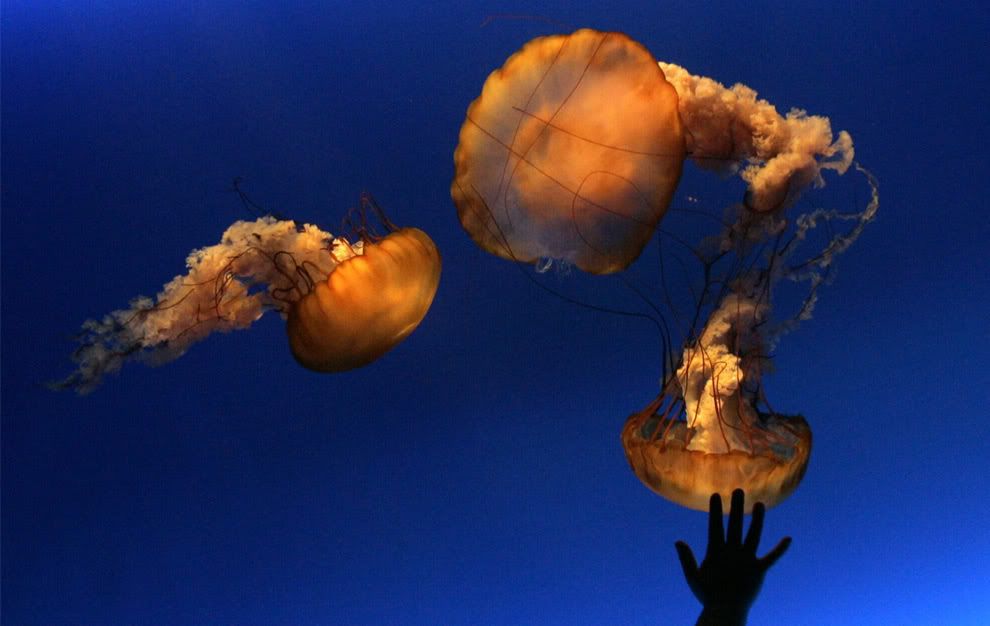 9.Buildings and debris are seen floating in the Cedar River against a railroad bridge Saturday, June 14, 2008, in Cedar Rapids, Iowa. Days after it rose out of its banks on its way to record flooding in Cedar Rapids, the Cedar River has forced at least 24,000 people from their homes, emergency officials said.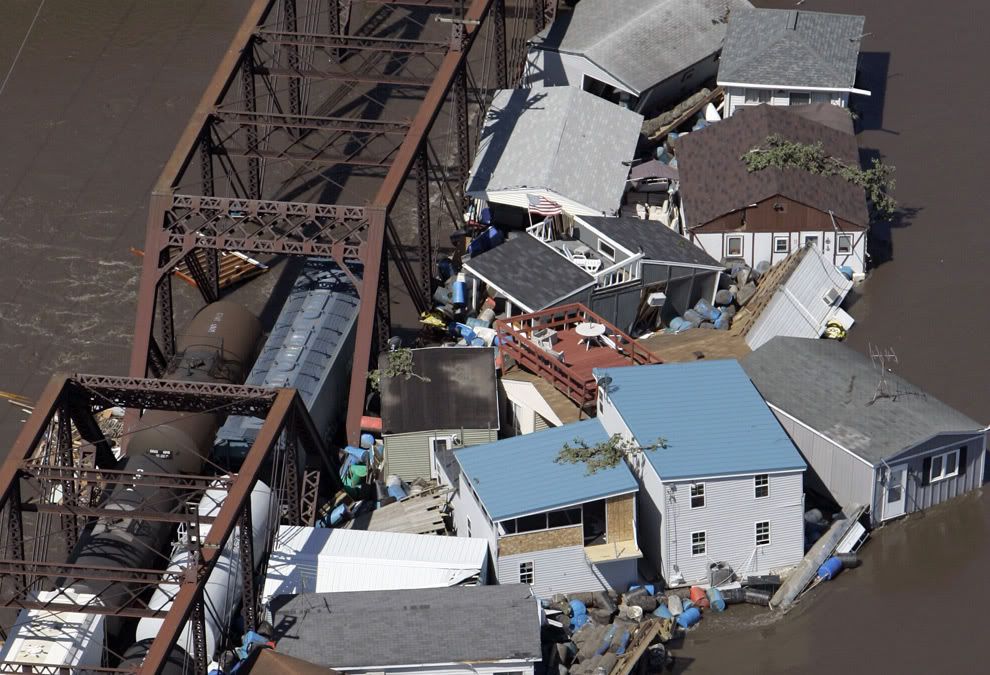 10.Kenyan athletes train at Eldoret's Chepkoilel stadium on May 30, 2008 in preparation for the upcoming Beijing Olympic Games 2008. Recently the Kenyan athletics federation announced the setting up of two training camps in Eldoret and Nairobi to cater for a selected team of 120 athletes ahead of the Beijing Olympic trials on July 4-5.
11.Time exposure of the Swiss mountain resort of Grindelwald next to the north face of the Eiger mountain, seen on January 10, 2008.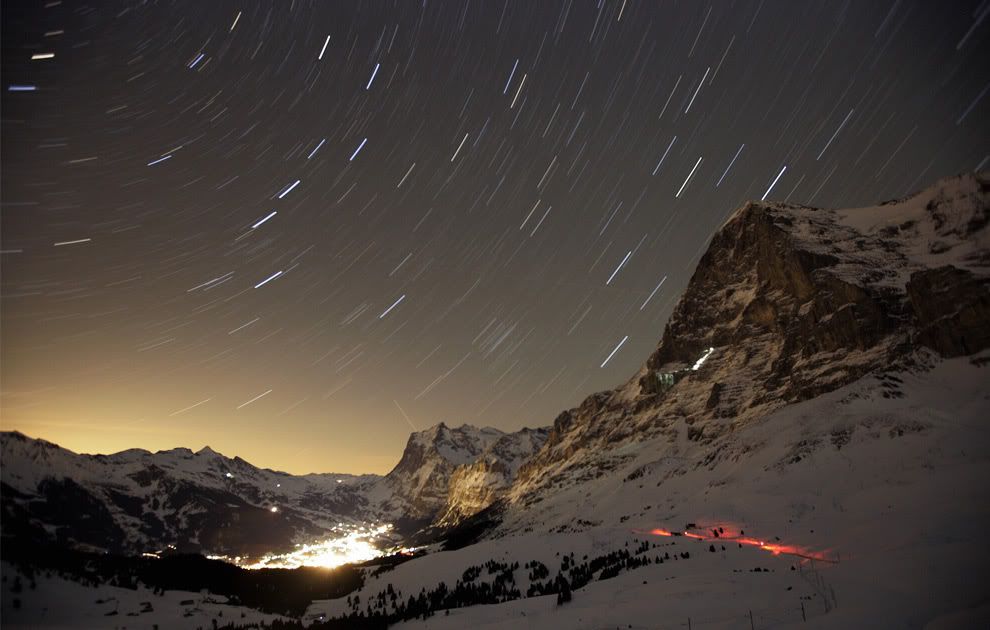 12.Department of Water and Power workers are emptying out bales of plastic balls in the Ivanhoe reservoir in Los Angeles on Monday, June 9, 2008. Department of Water and Power released about 400,000 black plastic 4-inch balls as the first installment of approximately 3 million to form a floating cover over 7 acres of the reservoir to protect the water from sunlight. When sunlight mixes with the bromide and chlorine in Ivanhoe's water, the carcinogen bromate can form.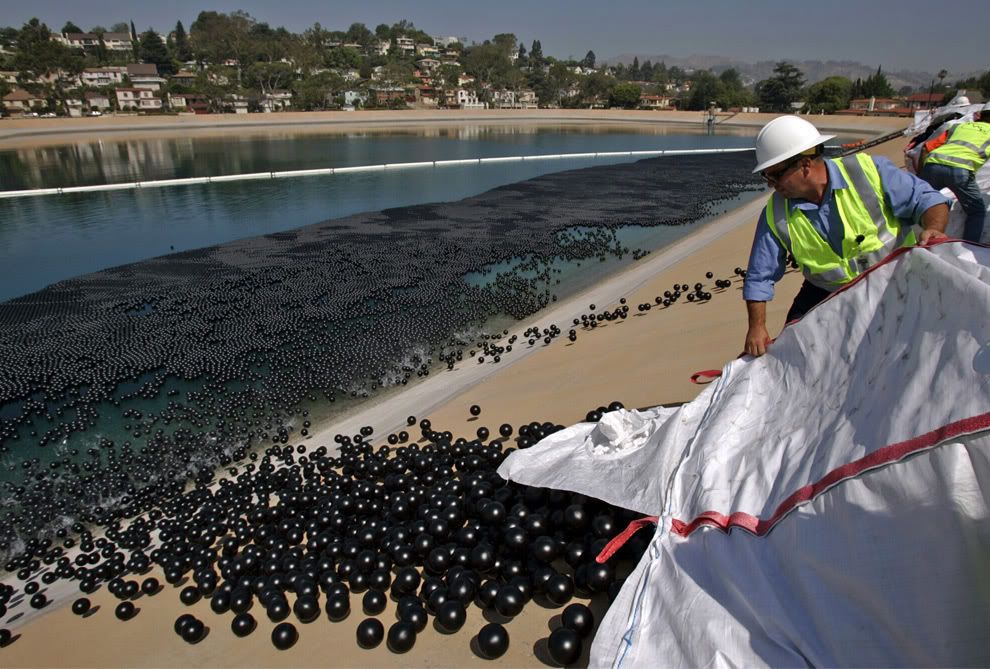 13.A man dressed as a tiger carries a small whip made from rope in Zitlala, Guerrero state, Mexico, Monday, May 5, 2008. Every year, inhabitants of this town participate in a violent ceremony to ask for a good harvest and plenty of rain, at the end of the ceremony men battle each other with their whips while wearing tiger masks and costumess.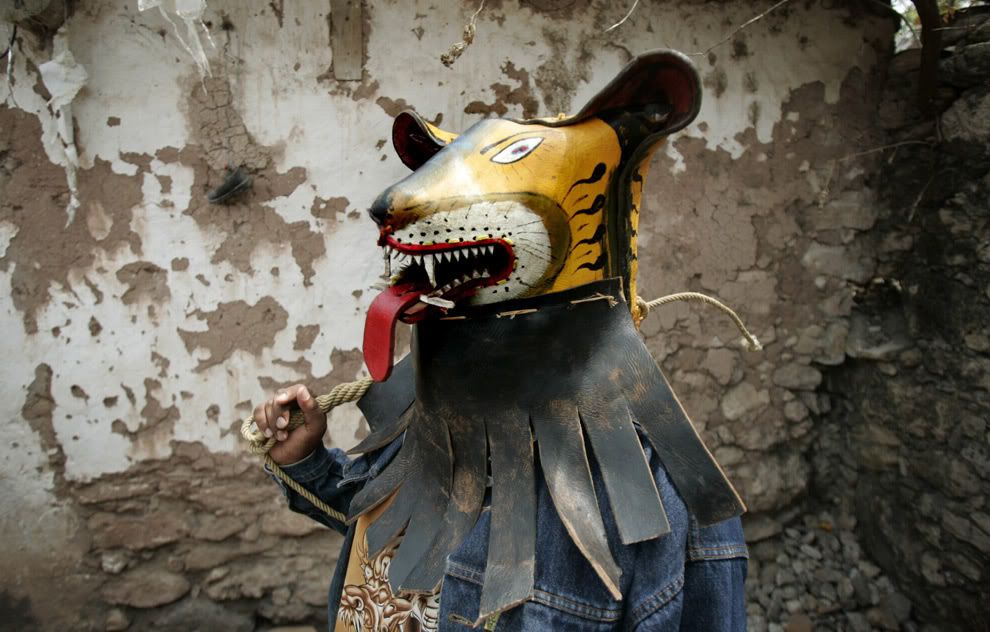 14.A baseball is illuminated by the sun as Chicago Cubs starting pitcher Ted Lilly throws during the first inning of a game against the Milwaukee Brewers Saturday, Sept. 27 2008, in Milwaukee.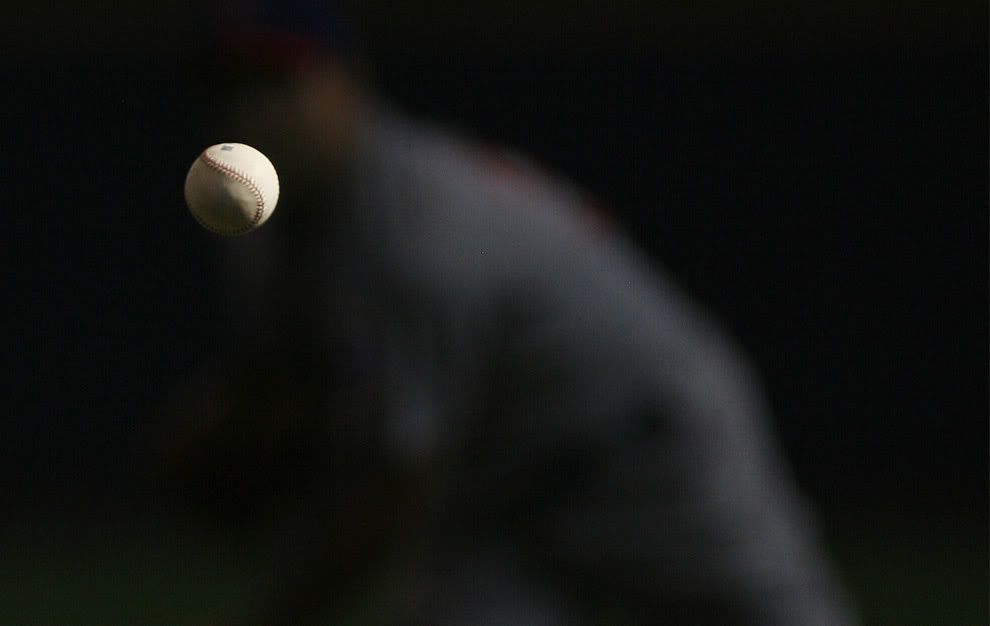 15.Children of slain Philadelphia police sergeant Stephen Liczbinski, Amber and Steve embrace after their father's funeral mass on the steps of the Cathedral Basilica of Saints Peter and Paul in Philadelphia, Pennsylvania May 9, 2008 Sergeant Liczbinski was gunned down as he investigated a bank robbery on May 3.
16.A policeman carries a child away during a gun battle in Tijuana, in Mexico's state of Baja California, January 17, 2008. A shootout on Thursday, after police agents moved in on a drug cartel group, left four people injured and forced the emergency evacuation of a school in Tijuana, according to the local media.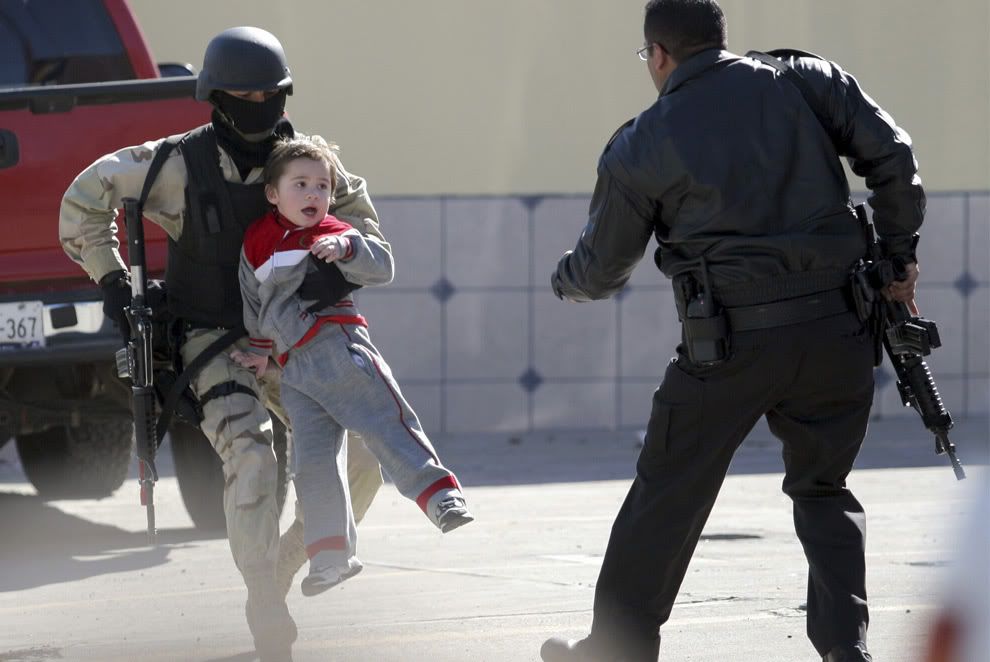 17.A man stands in front of the Marriott hotel after a bomb blast in Islamabad September 20, 2008. A truck bomb was detonated outside the Marriott in the Pakistani capital Islamabad on Saturday, killing at least 54, injuring at least 266 and starting a fire which swept through the hotel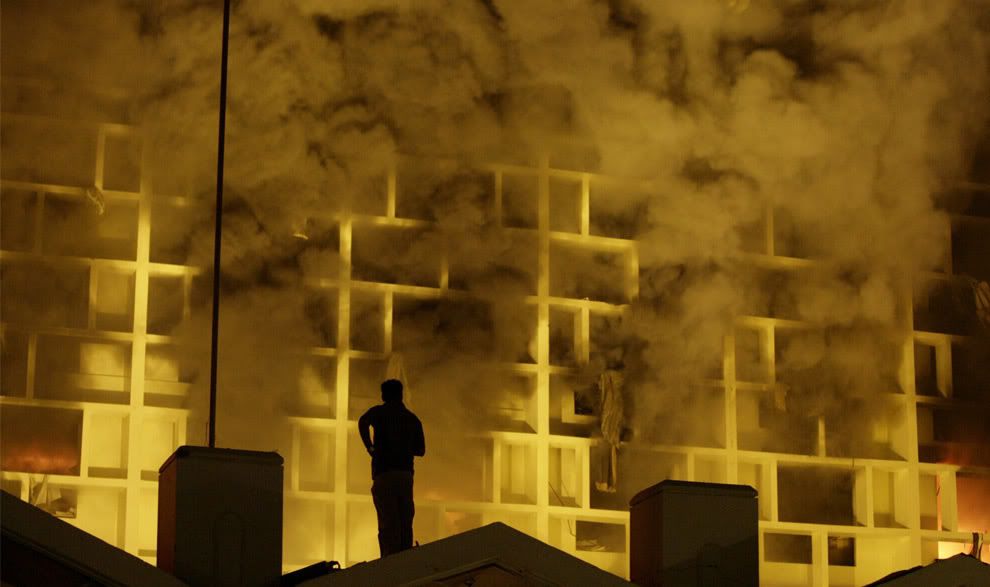 18.Locals and tourists walk around the Dutch ship Artemis which ran aground on the beach of les Sables d'Olonne, southern French Britanny, western France, March 10, 2008. The boat had been driven onto the coast by the wind blowing more than 130 km per hour.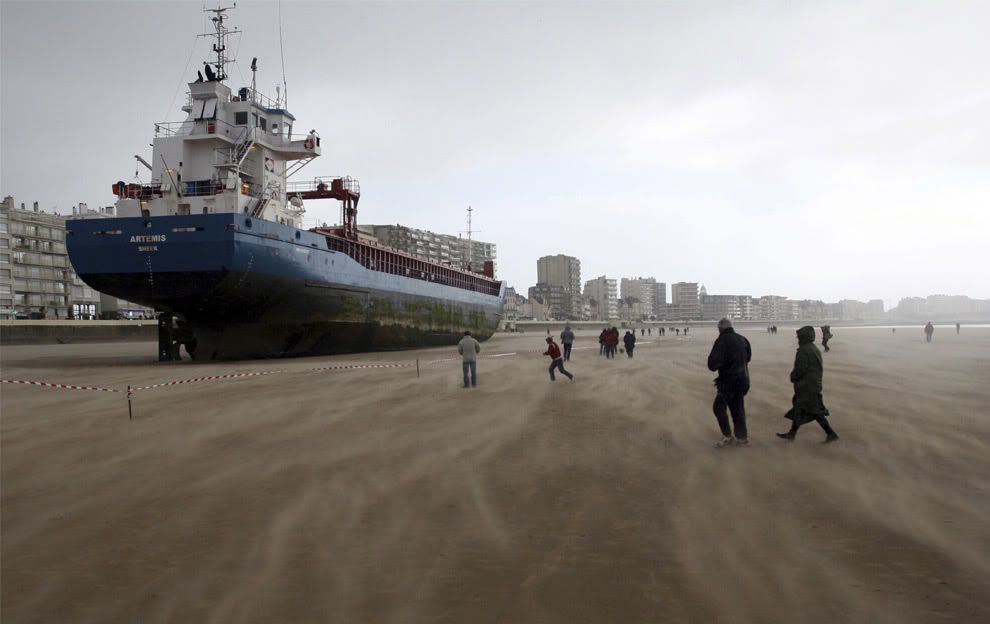 19.A fire rages out of control at the backlot filled with movie sets at Universal Studios in Universal City, California, 12 miles (19 km) from downtown Los Angeles June 1, 2008. A portion of the set used in Steven Spielberg's film "War of the Worlds" including a jet airplane is shown foreground.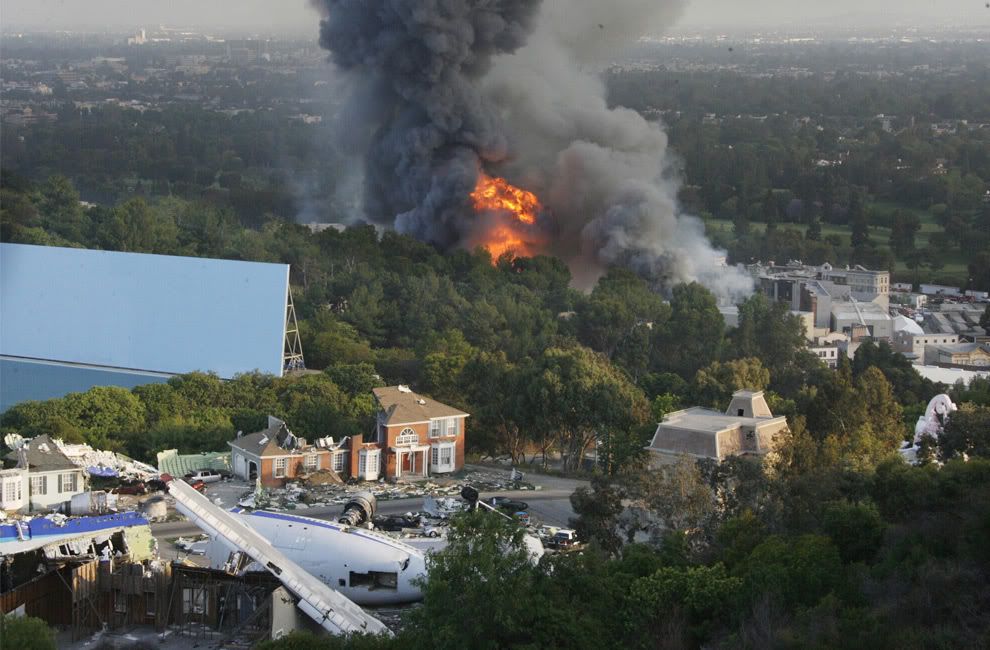 20.Swiss pilot Yves Rossy, the world's first man to fly with a jet-powered fixed-wing apparatus strapped to his back, flies during his first official demonstration, on May 14, 2008 above Bex, Switzerland.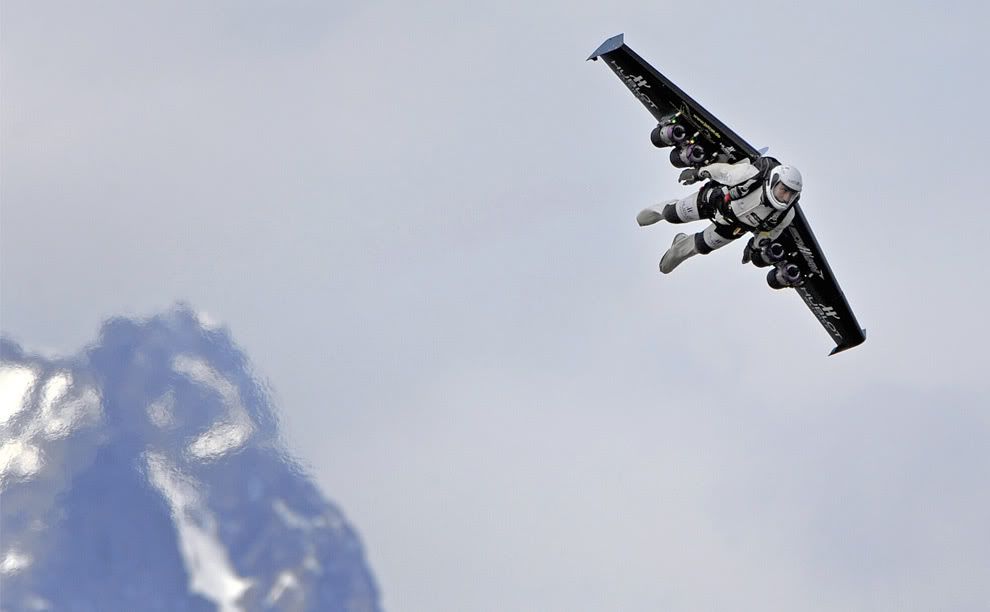 21.Cyclone Nargis victims huddle in torrential rain as they await assistance in Dedaye Township, southwest of Yangon, Myanmar on May 19, 2008. Political resistance to outside aid and a slow response by the government worsened an already devastating situation - an estimated 146,000 people lost their lives.
http://i212.photobuc...21_17229255.jpg
22.Tear gas cannisters fired by Israeli soldiers fall from the sky on Palestinian and Israeli peace activists during a protest agaisnt the construction of Israel's controversial security barrier in the West Bank village of Bilin, near Ramallah, on June 6, 2008.
http://i212.photobuc...22_17261883.jpg
23.Maasai warriors cover a battle field as they clash with bows and arrows with members of the Kalenjin tribe in the Kapune hill overlooking the Olmelil valley located in the Transmara District in Western Kenya on March 01, 2008. The Massai, the Kalenjin and the Kisii tribes have recently clashed over ongoing land disputes that erupted after botched local elections during the general elections held in Kenya in December of 2007. Over twenty warriors from the tribes have been killed in bow and arrow battles near the borders of these tribes in the last couple of months.
http://i212.photobuc...23_17118961.jpg
24.Firefighters battle a blaze at the Namdaemun gate, one of South Korea's most historic sites, in central Seoul, on February 11, 2008. An arsonist started the fire, destroying the gate - the oldest wooden structure in Seoul, first constructed in 1398 and rebuilt in 1447.
http://i212.photobuc...24_17118971.jpg
25.The head of a male student, still alive, trapped under the debris is pictured at the scene of the church school that collapsed on the outskirts of Haiti's capital Port-au-Prince, November 7, 2008. At least 30 people were killed when the three-story La Promesse school building collapsed while class was in session and some of the walls and debris crushed neighboring homes in the Nerettes community near Port-au-Prince.
http://i212.photobuc...25_17229353.jpg
26.Wounded Palestinians lay near Reuters news agency reporter Fadel Shaana's car after it was hit by an Israeli missile on April 16, 2008 in the central Gaza Strip. The Israeli air strike killed a Palestinian cameraman working for the Reuters news service and two other civilians, Palestinian medics and witnesses said.
http://i212.photobuc...26_17087949.jpg
27.A rescue helicopter prepares to hoist aboard surviving Japanese climber Hideaki Nara near the summit of Aoraki Mount Cook in New Zealand on December 5, 2008. A Japanese climber stranded for six days just below the summit had died just hours before rescuers reached him and a compatriot, local media reported. The two Japanese climbers were forced to huddle in a tent 50 meters below the 3,754-meter (12,349 feet) peak, as poor weather and high winds foiled attempts to rescue the men by helicopter.
http://i212.photobuc...27_17252825.jpg
28.A Kenyan boy screams as he sees kenyan policeman with a baton approach the door of his home in the Kibera slum of Nairobi 17 January 2008. Hundreds of police who had earlier clashed with supporters of Kenya's opposition leader Raila Odinga at the entrance of the slum moved into the shantytown and did a house to house search for protestors.
http://i212.photobuc...28_17164313.jpg
29.An Afghan refugee child hides from a dust storm behind a tent at a refugee camp in Kabul, Afghanistan on October 7, 2008. Over a quarter million Afghans have returned home this year from Pakistan and Iran, many of them reportedly due to economic and security uncertainties faced in exile, the United Nations said.
http://i212.photobuc...29_17087961.jpg
30.The Guizer Jarl is silhouetted as members of his Viking Squad walk around a long boat with burning torches during the annual Up Helly Aa Festival, in Lerwick, Shetland Islands on January 29th, 2008. Up Helly Aa celebrates the influence of the Scandinavian vikings in the Shetland Islands.
http://i212.photobuc...30_17108519.jpg
31.Comoran and Tanzanian African Union soldiers (not seen) arrest an injured Anjouanese man after shooting three rockets at his house in Mutsamudu on 25 March 2008. The Comoran army said it had located the renegade leader of the isle of Anjouan, Mohamed Bacar, during the operation it launched earlier March 25, 2008 with the African Union to oust him. Some 400 AND troops backed by around 1,000 soldiers from Sudan and Tanzania launched a offensive before dawn to wrest back control of the isle of Anjouan from Bacar, its self-proclaimed leader, and capture him. Bacar was captured, and after some legal wrangling, evaded extradition back to the Comoros, and is now living in exile in Benin.
http://i212.photobuc...31_17118953.jpg
32.Fishermen try to catch fish during the Argungu fishing festival in Nigeria on March 15, 2008. Over 30,000 fishermen from different parts of Nigeria and neighbouring West Africa took part in the final of the yearly Argungu fishing festival in Kebbi, northwestern Nigeria.
http://i212.photobuc...32_17118955.jpg
33.A firefighter uses a flare gun to set a backfire in the rugged area of Little Tujunga Canyon, 20 miles (32 km) north of downtown Los Angeles in the early hours of October 12, 2008. Fifty miles per hour gusty winds spread the fire towards ranches and houses in the heavily-forested canyon.A firefighter uses a flare gun to set a backfire in the rugged area of Little Tujunga Canyon, 20 miles (32 km) north of downtown Los Angeles in the early hours of October 12, 2008. Fifty miles per hour gusty winds spread the fire towards ranches and houses in the heavily-forested canyon.
http://i212.photobuc...33_17229339.jpg
34.Flames from a wreckage of a passenger plane are seen after crash Goma in the east of the Democratic Republic of Congo on April 15, 2008. 40 people were killed, most of them were on the ground in the marketplace where the plane crashed.
http://i212.photobuc...34_17119009.jpg
35.A polar bear shakes his body to remove water at the St-Felicien Wildlife Zoo in St-Felicien, Quebec on March 6, 2008.
http://i212.photobuc...35_17252337.jpg
36.Cambodian families living on the grounds of the disputed 900-year-old Preah Vihear temple, along the Thai-Cambodian border October 16, 2008. Nearly 200 Cambodian residents living near the temple have taken refuge on its grounds, after recent fighting killed two Cambodian soldiers, a local Cambodian newspaper reported. The International Court of Justice awarded the temple to Cambodia in 1962, but the court failed to determine the ownership of 1.8 square miles (4.6 sq km) Hindu ruins, a ruling that has rankled with Thais ever since.
http://i212.photobuc...36_17228729.jpg
37.A man in a traditional "Perchten" costume performs during an Austrian league soccer match in Ried, Austria November 12, 2008.
http://i212.photobuc...37_17033255.jpg
38.A man carries the body of a child recovered from the rubble of a destroyed house after an air strike in Baghdad's Sadr City in Iraq on April 29, 2008.
http://i212.photobuc...38_17229237.jpg
39.Finland's Harri Olli soars through the air during the large hill ski jumping FIS World Cup event in Liberec, Czech Republic on February 9, 2008.
http://i212.photobuc...39_17217493.jpg
40.Kerby Brown rides a huge wave in an undisclosed location southwest of Western Australia July 6, 2008, in this picture released November 7, 2008 by the Oakley-Surfing Life Big Wave Awards in Sydney. Picture taken July 6.
http://i212.photobuc...40_17250739.jpg
41.Imam Hashim Raza leads mourners in prayer during a funeral for Mohsin Naqvi at al-Fatima Islamic Center in Colonie, N.Y., Monday, Sept. 22, 2008. Naqvi was a Muslim, a native of Pakistan (he emigrated to the U.S. with his family when he was 8 years old and became a citizen at 16) and a U.S. Army officer. He was killed by a roadside bomb while on patrol in Afghanistan.
http://i212.photobuc...01_mohsinna.jpg
42.Students practice martial arts at Xuecheng Martial Arts School in Zaozhuang, Shandong province, China on June 11, 2008. Around 300 students from all over the nation, aged from 5 to 17 years old, receive martial arts training as well as cultural courses at this school, local media said.
http://i212.photobuc...02_17219525.jpg
43.In this Jan. 23, 2008, the construction site of the new China Central Television headquarters building is seen in Beijing. The building's two angled towers were connected in December to form a continuous loop of horizontal and vertical sections. The 230 meter (755 foot) building, one of Beijing's tallest, houses more than 10,000 staff.
http://i212.photobuc...03_chincctv.jpg
44.A bull sarcophagus in which a member of the Ubud royal family was cremated burns during the funeral ceremony Tuesday July 15, 2008 in Ubud, Bali, Indonesia.
http://i212.photobuc...04_baliroyl.jpg
45.Spacesuit engineer Dustin Gohmert drives NASA's new lunar truck prototype through the moon-like craters of Johnson Space Center's Lunar Yard. The lunar truck was built to make such off roading easy, with six wheels that can be steered independently in any direction. In addition, the steering center can turn a full 360 degree, giving the driver a good view of what's ahead, no matter which way the wheels are pointing.
http://i212.photobuc...05_lunaluna.jpg
46.A woman on a horse runs alongside the peloton during stage five of the 2008 Tour de France from Cholet to Chateauroux on July 9, 2008 in Chateauroux, France.
http://i212.photobuc...06_tourdefr.jpg
47.A Tibetan ® carrying a stick prepares to attack a fallen man in this photograph taken during protests in Lhasa March 14, 2008. Tibetans attacked Han Chinese and their businesses during violent protests in Lhasa over several days.
http://i212.photobuc...07_17228013.jpg
48.In this photo released by the official Xinhua news agency, members of China's armed police demonstrate a rapid deployment during an anti-terrorist drill held in Jinan, east China, on Wednesday July 2, 2008, roughly one month ahead of the Beijing Olympic Games.
http://i212.photobuc...08_chinprep.jpg
49.A firefighting airtanker drops Phos-Check fire retardant over the Gap fire as more than 1,000 wildfires continue burning across about 680 square miles of central and northern California, on July 3, 2008 near Goleta, California.
http://i212.photobuc...09_calfire1.jpg
50.Samuel Peter from Nigeria receives a punch from Vitali Klitschko of Ukraine during their WBC heavyweight boxing world championship fight in Berlin, Germany on Oct. 11, 2008. Klitschko won the fight after round nine due to technical knock out.
http://i212.photobuc...10_17351247.jpg
51.View of the Large hadron Collider's CMS (Compact Muon Solenoid) experiment Tracker Outer Barrel (TOB) in the cleaning room. The CMS is one of two general-purpose LHC experiments designed to explore the physics of the Terascale, the energy region where physicists believe they will find answers to the central questions at the heart of 21st-century particle physics. The Large Hadron Collider was scheduled to be up and running by the end of 2008, but electrical difficulties have set the date back to summer of 2009.
http://i212.photobuc...11_largehad.jpg
52.Left-to-right: Netherlands Antilles' Churandy Martina, Zimbabwe's Brian Dzingai, Jamaica's Usain Bolt, Wallace Spearmon of the US and Britain's Christian Malcolm compete in the men's 200m final at the Bird's Nest National Stadium during the 2008 Beijing Olympic Games on August 20, 2008. Bolt went on to win the event, in a world record time of 19.3 seconds.
http://i212.photobuc...12_boltrunn.jpg
53.Protesters holding candles march during a rally demanding a full-scale renegotiation of the beef deal with the U.S. and the resignation of President Lee Myung-bak around the city hall in Seoul, South Korea on June 7, 2008. Hundreds of thousands of people fearing infection of mad cow disease participated in the protest.
http://i212.photobuc...13_17227887.jpg
54.A convoy of Russian troops makes its way through the Caucasus Mountains toward the armed conflict between Georgian troops and separatist South Ossetian troops, in the South Ossetian village of Dzhaba on August 9, 2008. Georgian President Mikheil Saakashvili declared a "state of war" as his troops battled it out with Russian forces over the breakaway province of South Ossetia.
http://i212.photobuc...14_ossetia2.jpg
55.An unidentified crying Georgian woman is calmed by her husband after learning that her child was killed in a neighboring village, in Gori, about 80 km (50 miles) from Tbilisi, Georgia on August 11, 2008.
http://i212.photobuc...15_sossetia.jpg
56.A solar eclipse can be seen above the Jiayuguan Fort on the Great Wall of China in the town of Jiayuguan, Gansu Province, China on August 1, 2008.
http://i212.photobuc...16_seclipse.jpg
57.Drummers perform during the Opening Ceremony for the 2008 Beijing Summer Olympics at the National Stadium on August 8, 2008 in Beijing.
http://i212.photobuc...17_olyopeni.jpg
58.Giovanna Trillini of Italy and Nam Hyunhee of South Korea compete in the semifinals of the women's individual foil fencing event at the Fencing Hall on Day 3 of the Beijing 2008 Olympic Games on August 11, 2008 in Beijing, China.
http://i212.photobuc...18_womenfnc.jpg
59.Ireland's Gabriel Shelly, left, along with his coach celebrates after winning the bronze medal in Boccia-1 match against China's Wang Yi at the Paralympic games in Beijing, Tuesday, Sept. 9, 2008.
http://i212.photobuc...19_paralymp.jpg
60.A single home is left standing among debris from Hurricane Ike September 14, 2008 in Gilchrist, Texas. In its brief, but eventful life, Ike wreaked enough havoc to be blamed for over $31.5 billion in damage and nearly 150 deaths across the Caribbean and Gulf Coast.
http://i212.photobuc...20_hurrican.jpg
61.Photographers take pictures of an injured man during clashes believed to be linked to recent anti-foreigner violence in Reiger Park informal settlement in South Africa on May 20, 2008. South African police fired rubber bullets at hundreds of shantytown residents on Tuesday in a crackdown on violence against foreigners which ended up killing over 60 people and injuring hundreds more.
http://i212.photobuc...21_17229065.jpg
62.Afghan youths dive at a swimming pool on Wazir Akbar Khan hill in Kabul on June 24, 2008. Temperatures in the Afghan capital are approaching the 30 degrees Celsius mark as the summer sets in in Central Asia.
http://i212.photobuc...22_afghandv.jpg
63.Ethnic Tibetan worshippers enter a monastery to celebrate Monlam, or Great Prayer Festival, during a sandstorm in Aba, Sichuan province, February 17, 2008. Thousands of Tibetan pilgrims gathered to celebrate Monlam, one of the most important festivals in Tibetan Buddhism.
http://i212.photobuc...23_17250533.jpg
64.A suicide bomber's foot is seen at the site of a blast in Kabul, Afghanistan on July 22, 2008. The bomber killed three civilians and wounded one more in the attack, a police official said.
http://i212.photobuc...24_17228853.jpg
65.Rockets fly over bell tower of Ayios Marcos church during Greek Orthodox Easter celebrations on the eastern Aegean island of Chios in Greece late on April 26, 2008. Two rival parishes of Vrontados village fire thousands of rockets every Easter Saturday aiming at the opposing church's bell tower in a centuries-old tradition.
http://i212.photobuc...25_17252029.jpg
66.Thousands of sportsmen and women are seen on their way from Maloja to S-Chanf near St Moritz in south eastern Switzerland on March 9, 2008 as they participate in the annual Engadin skiing marathon.
http://i212.photobuc...26_17351069.jpg
67.The downtown core of Vancouver and the Lions Gate Bridge rise above a morning fog in this view from Cypress Mountain in West Vancouver, British Columbia November 17, 2008.
http://i212.photobuc...27_17250793.jpg
68.Pakistani people watch as an acrobat rides his motorcycle around a circular track during the memorial of Muslim saint Syed Lal Shah next to his shrine in Muree, about 60 kilometers north of Islamabad, Pakistan on June 15, 2008. Hundred of pilgrims gather during six days every year to pay respect at the tomb of Syed Lal Shah. (
http://i212.photobuc...28_17351465.jpg
69.A giant mechanical spider, part of a piece of free theater by French company La Machine entitled "Les Mecaniques Servants", walks along the waterfront in Liverpool, England on September 5, 2008. The 37-ton spider which stands at 50 feet (15 meters) tall was in Liverpool as part of the city's European capital of culture celebrations.
http://i212.photobuc...29_17251943.jpg
70.Red Star Belgrade's fans light torches during the Serbian First Division soccer match against Mladost Lucani in Belgrade, Serbia on March 29, 2008.
http://i212.photobuc...30_17228889.jpg
71.Muslim women attend prayers on the eve of the first day of the Islamic fasting month of Ramadan at a mosque in Surabaya, East Java, Indonesia on August 31, 2008.
http://i212.photobuc...31_ramadan1.jpg
72.In this June 27, 2008 file photo, a man runs next to balloons placed at Copacabana beach, in Rio de Janeiro. Demonstrators released around 4,000 red balloons during an event representing the 4,000 people who were expected to become victims of violence over the next six months.
http://i212.photobuc..._17350417-1.jpg
73.A diver practices in the new National Aquatics Center in Beijing, China on Aug. 16, 2008.
http://i212.photobuc..._17350925-1.jpg
74.A visitor looks at a mock skeleton of the cartoon character Tom from "Tom and Jerry" by South Korea's artist Hyungkoo Lee during a special exhibition "Animatus" at Natural History Museum Basel, Switzerland on August 26, 2008.
http://i212.photobuc..._17239949-1.jpg
75.Police work to help their fallen colleagues, victims of a suicide bombing, as others watch outside a court in the centre of Lahore January 10, 2008. A suicide bomber walked up to a group of policemen stationed outside the High Court in the Pakistani city of Lahore on Thursday and set off his explosives, killing 21 people, most of them police, officials said.
http://i212.photobuc..._17229057-1.jpg
76.Maoist leader Prachanda sits with garland after being declared the winner of the election in Kathmandu, Nepal on April 12, 2008. Nepal's Maoist former rebels took a shock early lead on Saturday in an election aimed at cementing a peace deal that ended a decade-long civil war.
http://i212.photobuc..._17219113-1.jpg
77.Canada's Prime Minister Stephen Harper (bottom L) and other MP's listen as National Chief of the Assembly of First Nations Phil Fontaine speaks in the House of Commons on Parliament Hill in Ottawa June 11, 2008. Canada, seeking to close one of the darkest chapters in its history, formally apologized earlier that week for forcing 150,000 aboriginal children into grim residential schools, where many say they were abused.
http://i212.photobuc..._17219313-1.jpg
78.U.S. soldiers search for weapons on an Afghan man, who works for a private security firm escorting truck convoys, after they found illegal weapons in his vehicle, in a village near Kandahar, Afghanistan in this April 27, 2008 photo. Forty countries are now contributing to the NATO-led International Security Assistance Force (ISAF) which has around 47,000 troops. the United States also contributing some 14,000 troops serving in a separate force.
http://i212.photobuc..._17228847-1.jpg
79.In this Jan. 11, 2008 photo, eagles await transfer to a warm U.S. Fish and Wildlife warehouse after being rescued from the cold in Kodiak, Alaska. They were among 50 eagles which dove into the back of an uncovered dump truck full of fish guts and became too wet to fly away.
http://i212.photobuc..._17350415-1.jpg
80.French President Nicolas Sarkozy gently touches the hand of his wife Carla Bruni-Sarkozy during a welcoming ceremony in Ben Gurion airport in Israel on June 22, 2008.
http://i212.photobuc..._17219319-1.jpg
81.Democratic presidential candidate Sen. Barack Obama waves to the crowd at a rally in the rain at the University of Mary Washington in Fredericksburg, Va. Saturday, Sept. 27, 2008.
http://i212.photobuc...01_baobama1.jpg
82.A general view shows a "solucar" solar park in Sanlucar La Mayor, near Seville, Spain on November 6, 2008. The solar thermal power plant uses mirrors to concentrate the sun's rays onto the top of a 100 meter (300 foot) tower where it produces steam to drive a turbine, producing electricity.
http://i212.photobuc...02_17240063.jpg
83.Astronaut Karen Nyberg, STS-124 mission specialist, looks through a window in the newly installed Kibo laboratory of the International Space Station while Space Shuttle Discovery is docked with the station on June 10th, 2008.
http://i212.photobuc...03_astronau.jpg
84.In this March 11, 2008 photo, a boy plays soccer at La Boca neighborhood in Buenos Aires, Argentina.
http://i212.photobuc...04_17351177.jpg
85.A Kosovo Albanian man in the Kosovo town of Stimlje, south of the capital Pristina, tries to rescue his horse after it veered off the road and fell into a river March 26, 2008.
http://i212.photobuc...05_17239549.jpg
86.Staff stand in a meeting room at the Lehman Brothers offices in the financial district of Canary Wharf in London September 11, 2008. Lehman Brothers eventually filed for bankruptcy - the largest bankruptcy in U.S. history - and was delisted from the NYSE, and later liquidated.
http://i212.photobuc...06_17210625.jpg
87.A U.S. Marine with a ground combat element assigned to Delta Company, 2nd Light Armored Reconnaissance Battalion, Task Force Mechanized, Multi-National Force - West walks through the Hatra Ruins in the Jazeerah Desert in Iraq on July 20, 2008. The task force is conducting disruption operations in the area to deny the enemy sanctuary and prevent foreign fighters from accessing the area.
http://i212.photobuc...07_iraq0001.jpg
88.A young sapphire miner holds on tight to a rope as he is lowered into a deep hole in the ground in a field in Anzanakaro near Ilakaka, Madagascar on September 14, 2008. Local miners and many of their family members work deep narrow holes where they scrape gravel and sand in search of sapphires.
http://i212.photobuc...08_sapphire.jpg
89.Democratic presidential candidate, Sen. Barack Obama (lower right) waves as he arrives at a rally of 100,000 supporters in St. Louis, Mo., Saturday, Oct. 18, 2008.
http://i212.photobuc...09_baobama2.jpg
90.In this April 30, 2008 photo, a young Iraqi boy poses for a photo after graduating from kindergarten in Baghdad, Iraq.
http://i212.photobuc...10_17351787.jpg
91.Most of the homes in the Oakridge mobile home park, which reportedly had 600-800 homes, lie in ruins after burning in the Sylmar Fire on November 15, 2008 in Sylmar, California. The fire began last night and was fueled to more than 2,600 acres by strong erratic winds in excess of 70 miles per hour which kept firefighting aircraft grounded in the morning.
http://i212.photobuc...11_cafires2.jpg
92.The bodies of two Palestinian militants lay near their mortar launcher after an Israeli airstrike in Gaza November 16, 2008. They had been firing mortar rounds into a neighboring Israeli neighborhood. An Israeli air strike killed four Palestinian militants in the Gaza Strip on Sunday and two rockets fired from the Hamas-controlled territory hit Israel as a five-month-old ceasefire continued to unravel.
http://i212.photobuc...12_17072039.jpg
93.Mateja Robnik of Slovenia negotiates a track of the women's giant slalom FIS World Cup event in Maribor, Slovenia January 12, 2008.
http://i212.photobuc...13_17217491.jpg
94.A military helicopter transporting soldiers and engineers prepares to land near the Tangjiashan quake lake area at earthquake-hit Beichuan, Sichuan province, China on May 27, 2008. China had evacuated more than 150,000 people living below a swollen lake formed by this month's devastating earthquake amid fears it could burst and trigger massive flooding, state media said on Wednesday.
http://i212.photobuc...14_17218837.jpg
95.21-year-old Ajmal Kasab, one of ten terrorists who attacked Mumbai, India on November 26th, 2008 walks through the Chatrapathi Sivaji Terminal railway station, carrying weapons and duffel bags of ammunition. Kasab and his cohorts - all from Pakistan - killed over 170 people over the course of three days, until all except Kasab were killed by Indian forces.
http://i212.photobuc...15_mumbaiat.jpg
96.A competitor dives from the 14 meter-high bridge over Drina river during annual high diving competition in Bosnian town of Visegrad July 12, 2008.
http://i212.photobuc...16_17252285.jpg
97.Men are caught in a dust storm while playing cricket at a playground in Kabul, Afghanistan on March 31, 2008.
http://i212.photobuc...17_17217515.jpg
98.Internally Displaced People leave Kibati heading north from the city to their villages, Kibumba and Rugari, north of the provincial capital of Goma, Congo, on November 2, 2008. Several thousand people displaced in the fighting between rebels and government troops in eastern Democratic Republic of Congo began returning home Sunday as a ceasefire held, an AFP correspondent on the scene reported.
http://i212.photobuc...18_congoidp.jpg
99.An earthquake survivor tries to figure out where his home used to be at the Donghekou Earthquake Relics Park, which covers one town and five villages including Donghekou Village, on November 11, 2008 in Qingchuan County of Sichuan Province, China. The park, which is the first memorial site after the massive Wenchuan Earthquake, was opened to the public on November 12, 2008.
http://i212.photobuc...19_beichan2.jpg
100.Casey Stoner of Australia and the Ducati Team in action on a wet track, during a practice run for the Australian MotoGP at the Phillip Island Circuit on October 3, 2008 in Phillip Island, Australia.
http://i212.photobuc...20_motogpmc.jpg
101.A young man with an arrow in his head arrives at hospital following ethnic clashes in the town of Nakuru in the Rift Valley area January 26, 2008. Kenyans in the Rift Valley town of Nakuru feared more violence on Saturday after a disputed election triggered pitched battles between ethnic gangs that killed at least a dozen people.
http://i212.photobuc...21_17228863.jpg
102.A man's hand drips blood as he stands in front of riot policemen during a demonstration in Athens, part of a days-long series of demonstrations throughout Greece on December 9, 2008.
http://i212.photobuc...22_grekriot.jpg
103.Republican presidential candidate John McCain makes his acceptance speech during the Republican National Convention in St. Paul, Minn., Thursday, Sept. 4, 2008.
http://i212.photobuc...23_jmccain2.jpg
104.Duncan Zuur of the Netherlands rides a wakeboard across flooded Piazza San Marco in Venice, Italy as the recent "acqua alta" (high water) reached a depth of 1.56 meters (5 ft, 1 in.) on December 2, 2008.
http://i212.photobuc...24_venicefd.jpg
105.Soldiers maintain order amongst stranded passengers outside a railway station in Guangzhou, Guangdong province, February 3, 2008. A stampede at Guangzhou railway station killed one person when frustrated passengers rushed to board trains after days of cancellations because of fierce cold and snow, police confirmed on Sunday.
http://i212.photobuc...25_17250877.jpg
106.An indigenous woman holds her child while trying to resist the advance of Amazonas state policemen who were expelling the woman and some 200 other members of the Landless Movement from a privately-owned tract of land on the outskirts of Manaus, in the heart of the Brazilian Amazon March 11, 2008. The landless peasants tried in vain to resist the eviction with bows and arrows against police using tear gas and trained dogs, and were evicted from the land.
http://i212.photobuc...26_17227873.jpg
107.This sequence of 12 frames was taken by NASA's Cassini spacecraft over a span of about 45 minutes on March 12, 2008. In that brief time, Cassini covered almost 40,000 kilometers in its approach to a flyby encounter with Enceladus, one of the moons of Saturn. The overexposure and smearing of the images gives a hint of the raw speed involved - 14.4 km/sec (or 32,211 mph). Shortly after this sequence, at its closest, Cassini approached within 52 km (32.3 miles) of the surface of Enceladus.
http://i212.photobuc...agi/27_moon.gif
108.A firefighting airplane drops water on the burning Turkish ship Undadriyatik in the waters near town of Rovinj, Croatia in the northern Adriatic Sea on Feb. 6, 2008.
http://i212.photobuc...28_17350297.jpg
109.A U.S. Army helicopter gunner, his helmet face painted as a skull, awaits soldiers to board his Chinook transport helicopter October 30, 2008 for transport out of the Korengal Valley of eastern Afghanistan. Taliban insurgents had attacked a nearby U.S. Army outpost, and the Americans responded with machine guns, mortars and helicopter gunships.
http://i212.photobuc...29_korengal.jpg
110.Thousands of black clad Israeli Orthodox Jews attend the funeral of Arieh Levish Teitelbaum, one of the Israeli victims of the Mumbai attacks, on December 2, 2008 in Jerusalem. Wailing and chanting psalms, thousands of people bid a final farewell today to the six Jews killed in last week's bloody Mumbai attacks and whose bodies were flown to Israel for burial.
http://i212.photobuc...30_17222175.jpg
111.Pakistani men try to rescue a donkey buried during an earthquake in Ziarat, about 130 kilometers (81 miles) south of Quetta, Pakistan on October 30th, 2008. Rescue workers searched through the rubble of villages destroyed by a powerful earthquake in southwestern Pakistan that killed at least 215 people.
http://i212.photobuc...31_17349871.jpg
112.The Chinese Shenzhou-7 manned spaceship, the Long-March II-F rocket and the escape tower are transferred to the launch pad at the Jiuquan Satellite Launch Center, Gansu province, China on September 20, 2008. Taikonaut Zhai Zhigang performed China's first-ever spacewalk on the successful mission.
http://i212.photobuc...32_17252295.jpg
113.An Indian policeman holds a shield against stone-throwing Kashmiri Muslim protesters in Srinagar September 9, 2008. More than two dozen people including 10 policemen were injured in Kashmir on Tuesday when police clashed with hundreds of stone-throwing demonstrators in fresh protests against Indian rule in the area.
http://i212.photobuc...33_17228171.jpg
114.People drop lines in holes on a frozen river at an event to fish trout in Hwacheon, South Korea, about 20 km (12 miles) south of the demilitarised zone separating two Koreas, northeast of Seoul January 13, 2008. More than 1,000,000 people attend at the annual ice festival which lasts for three weeks in January.
http://i212.photobuc...34_17250831.jpg
115.A patient with advanced pulmonary TB in a tuberculosis hospital in Mumbai, India receives a daily injection as well as oxygen. Photojournalist James Nachtwey brought us (through photography) a story this year of a new, dangerous type of tuberculosis called Extreme Drug-Resistant Tuberculosis, or XDR-TB. Tuberculosis is both preventable and curable, but inadequate treatment has been driving the emergence of XDR-TB, especially in developing nations.
http://i212.photobuc...35_nachtwey.jpg
116.Images of books on shelves are seen projected on the walls of the Tower of David in Jerusalem's Old City - part of a show called "Or Shalem, Jerusalem Lights the Night", staged by a group called Skertzò on October 7, 2008. The Tower of David is a massive citadel that, over the centuries, has served as a fortress, military barracks and cannon position. These days, the Tower serves as a popular tourist site.
http://i212.photobuc...36_booklite.jpg
117.Austrian pilot Hannes Arch flies during the Red Bull Air Race World Series, with the Hungarian Parliament Building in the background, in Budapest, Hungary on August 20, 2008.
http://i212.photobuc...37_rairrace.jpg
118.The moon and stars light up Mount Everest, also known as Qomolangma, as seen from near Everest Base Camp in the Tibet Autonomous Region April 29, 2008.
http://i212.photobuc...38_17250511.jpg
119.U.S. President George W. Bush walks back to the Oval Office after making remarks at the White House in Washington March 13, 2008.
http://i212.photobuc...39_17210275.jpg
120.A spectator raises her fist in celebration seconds after it was announced that Barack Obama will become the 44th President of the United States at Ebenezer Baptist Church, Tuesday, Nov. 4, 2008.
http://i212.photobuc...40_baobama3.jpg